 By Cornbread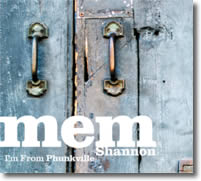 Mem Shannon – I'm From Phunkville
{4/19/05 | Northern Blues Music}
Twelve original songs and one cover ("Eleanor Rigby"). It features the special guests of Trombone Shorty, Jason Mingledorff (Papa Grows Funk), and Billy Martin (Medeski Martin & Wood).
I'm From Phunkville is Mem's fifth CD and follow-up to the smash CD Memphis In The Morning' with the song "S.U.V." which was named Song of the Year by Living Blues Magazine (June/July 2002).
Mem mixes up a gumbo-stew with meaty morsels of blues, jazz, funk, rock and soul.
1. The Reason – this jazzy R&B tune is upbeat with plenty of horns.

2. Swing Tiger Swing – described as a rolling funk with piano boogie.

3. Perfect World – slower, deep R&B'esque.

4. Phunkville – the song starts with well precision blues guitar, gets jazzy chased with a Hammond.

5. I'll Kiss A Pitbull – my first thought was of my ex-wife, the songs goes from kinda funky to full out James Brown funk.

6. Battle Ground – vocally Mem was right on with loads of soulful emotion.

7. The Lights of Caracas (I Didn't Know) – an easy listening, mellow jazzy tune.

8. Sweet Potato – a bluesy song with a good bass shuffle and 'lectric guitar.

9. No Religion – roadhouse down and dirty blues, I really liked it.

10. Forget About Me – is background music when having a late night candlelit supper with mama.

11. Eleanor Rigby – ain't nuttin' like Sir Paul's version, this is soul, man.

12. Ignant Stick – a catchy tune, with good licks. I have no idea what the song means but I liked it.

13. We Going – semi instrumental, dynamite guitar, dynamite bass.
This CD takes you up and brings you down. It has many styles and feels. I enjoyed it. Rating 4.37

Ciao' for now, peace.
Cornbread
Cornbread@stlblues.net