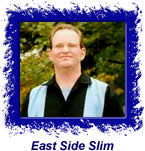 By East Side Slim
Dog Town – No Ordinary Blue
Self-Released, 2008

Dog Town is a Kansa City area 3-piece, consisting of Ron McManaman (vocals, bass), Gil Gazaille (guitar) and Steve Grate (percussion).

There are several guest players on-board the CD providing keyboards, sax and flute. The music on the CD has the sound of a local bar band made up of rockers who decided to play blues, or rather, blues-rock. The vocals are pretty ordinary, done in a talk-sing style, with thin guitar and busy bass. As you probably guessed this CD isn't one of my favorites.

The Songs:

1. No Ordinary Blue: --
This nice little boogie-blues opens the set. While not blessed with a great singing voice, Ron McManaman's deep, world-weary voice fits this song well. This tune happens to be Cornbread's "Pick of the Litter".

2. Bad Boy: --
This up-tempo tune just doesn't work very well. The band never jells here and Ron's vocal weaknesses become obvious.

3. One Last Chance: --
This song is a mellow blues-rocker – emphasis on rocker. To me it almost sounds like a cross between Lynyrd Skynyrd and The Moody Blues. It's not my cup of tea.

4. Nowhere Paradise: --
This is an up-tempo blues-rocker with sax fills. The song isn't bad at all, but the bass line is much too busy and Ron's vocals don't do the song justice.

5. Flows Like A River: --
Mid-tempo blues-rocker built on a rock bass line. This is another song that has nice structure, but poor execution.

6. Take Me Back: --
Up-tempo boogie-blues-rocker. The band just doesn't seem to jell here.

7. Time For The Blues: --
This song rides a rhythm pattern from an old Blue Oyster Cult song (yes, B.O.C.), played on acoustic guitar. It's a slow tune, and is a fun rock song – but blues it isn't.

8. When You Don't: --
There's no blues here, although there is flute. This is a rock ballad, which could be an interesting song if sung by a stronger vocalist.

9. Perfect Man: --
another rocky folky ballad.

10. Ain't Gonna Change My Heart: --
This is a hot guitar-driven track whose intro is straight out of the Thin Lizzy song book.

The Verdict:

This CD was self-produced by the K.C. area blues-rock band Dog Town. The title track, No Ordinary Blue, is by far the best song on the CD, while none of the other tunes really catches fire. The rock content is much higher than the blues content, and the vocals are not very strong. STLBluesometer rating? Only 2.0 for No Ordinary Blue, as it is unfortunately very ordinary.

Lee Howland, aka "East Side Slim"