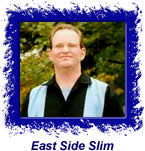 By East Side Slim
Nick Moss & The Flip Tops – Live At Chan's – Blue Bella Records, 2006
Nick Moss & The Flip Tops are one of the hardest working blues bands out there right now, and are also among the torch-bearers of the hard, ensemble-based Chicago-style blues. If you like your blues in the style of that made famous during the '50s and '60s, in the style of the magnificent Magic Slim & The Teardrops, then the Flip Tops are the band for you. In addition to leading The Flip Tops, Nick Moss also runs his own record label, Blue Bella, along with his wife Kate. Check out other releases on Blue Bella; you will not be sorry.

This CD, Live At Chan's, was recorded in Woonsocket, Rhode Island back in July 2005, and was released in 2006. It contains 76 minutes of hot, thumping, grooving, muscular Chicago blues, and retains the feel of an actual live set. The typical live band line-up is Moss on guitar, Gerry Hundt on bass, Piano Willie Oshawny on keys, along with a drummer. On this recording the drummer was Victor Spann. During the course of a Flip Tops show the guys enjoy swapping instruments, and you'll find Nick Moss on harp or bass, Hundt on harp, guitar, mandolin or keys, and Oshawny on bass. As if that isn't fun enough, for this recording the band invited local-boy-made-great-blues-guitarist Monster Mike Welch to play on several songs as a 2nd guitarist.
Nick takes the lead vocals on all but one song here (he should have taken all the vocals, or left the other track as an instrumental). Personally, I hear a lot of Jr. Wells influences in Nick's singing style, although Nick's voice is deeper. Nick had developed into a fine lead singer by the time this CD was recorded, and he's only gotten better since.
You can catch Nick Moss & The Flip Tops in St. Louis several times a year down at B.B.'s Jazz, Blues & Soups. If you can't make it out to one of their appearances, pick up this live CD to see what you're missing. Also, you can pick out the newest live CD from the band - Live At Chan's: Combo Platter No. 2 - which should be in stores right now (2009 release.)
The Songs: (all songs credited to Nick Moss unless otherwise noted)
1. Eggroll Stroll
--According to the liner notes, this opening instrumental cut was made-up on the spot. Of course, it's built on long-standing blues musical themes (it swings like crazy thanks to Piano Willie's work on the ivories), with the band members inserting their own solo and rhythmic ideas into the piece. It makes me very jealous to hear players this talented being able to simply improvise music this cool for 7 and a half minutes… Plus, you have to love the title of the song – a nice little tribute to the venue, Chan's.
2. Check My Pulse
--This mid-tempo tune oozes Chicago ensemble blues, and sets you up for what's to come on the remainder of the CD. Nick's declamatory vocals work very well here. Personally, I think his singing is extremely soulful and is a highlight (one of many) on this album. Also, Piano Willie's work is featured prominently in this song.
3. I Love The Woman – (B. Myles/N. Nathan)
--Nick states in the liner notes to the CD that this tune is one of his favorite Freddy King songs. This is a slow blues, with Nick digging deeply into Freddy's guitar styling, making his guitar cry and moan. This is a very long track, clocking in at just over 10 minutes, which allows The Flip Tops to wring every drop of emotion out of the cut.

4. I Never Forget
--I like this track very, very much. It's a hard Chicago shuffle in the style of Magic Slim & The Teardrops – hard blues - with lots of piano trills and runs courtesy of Piano Willie Oshawny. I can listen to this kind of music for hours on end, wearing a big fat smile the entire time.

5. One-Eyed Jack
--This is the 1st of 4 songs on the CD that feature Monster Mike Welch on 2nd guitar. Note that I didn't write "rhythm" guitar. When you listen to the blues of Muddy and the other cats from the '50s and '60s, you didn't really hear lead and rhythm players. As Nick Moss mentioned in an interview I read, both guitar players would play, weaving in and around each other, with neither player really being lead or rhythm players – both musicians played it all. Back to the tune… it's a slow blues firmly in the Muddy Waters-school of slow blues, with vocals reminiscent of Jr. Wells.

6. Your Red Wagon – (R. Jones/D. Raye/G. De Paul)
--The Flip Tops swing this one at you, and it sounds very nice indeed. Mike Welch is playing 2nd guitar here, by the way. It you placed a hot harp player out in front of the band for this song you'd think you were listening to a tune from William Clarke or George Smith. Piano Willie is given extended solo time on this song, and he makes the most of it.

7. Just Like That
--Gerry Hundt moves over to harp (he's a very good harp player, and really should be leading a band on harp somewhere), Piano Willie is now Bass Willie, and Monster Mike is still playing 2nd guitar. This song is a hard-driving, up-tempo blues romp, motoring along on Gerry's harmonica playing; he's wailing here!

8. It's Good In Your Neighborhood – (B. Benton)
--As the liner notes state, this is the Flip Tops take on a Buster Benton tune filtered through the influence of Magic Slim. You can definitely hear a lot of the Teardrop influence in Nick's blues. There's nothing wrong with that: hard, deep, shuffling, sensual, declamatory electric blues, the kind of music that makes your body want to MOVE!!!
9. The End – (Jimmy Reed)
--It's an old Jimmy Reed song, but it sure doesn't sound like one! The Flip Tops totally rearrange this one and speed the tempo way up. Monster Mike Welch appears here for the last time on the CD, and Piano Willie moves over to organ. I'm a sucker for B3-styled organ, or most any type of organ sounds, so this is a treat for me. Listen closely to this cut, as you can hear each player moving among and around what each other is playing, never stepping on anyone but always being heard. This is one tough track.
10. Wine-O-Baby Boogie – (J. Turner)
--Piano Willie is the focus of this song, as he moves back to piano for a pounding boogie performance; he also takes on the lead vocal chores. Willie's vocals just aren't very strong, especially as compared to Nick's vocals or to the vocals of the song's originator, Big Joe Turner. The more lead vocal work Nick Moss does with the band, the better. Sorry Willie. However, Willie tears up the piano with a scorching workout.
11. Move Over, Morris
--The set ender, this cut is a really nice strolling instrumental featuring a Magic Slim influence. Gerry is on 2nd guitar, Willie is on bass, and the band as a whole achieves a deep in-the-pocket groove. What a strong way to end an already top-flight album.

The Verdict:
Have you ever heard a live CD or album that made you say to yourself "man, I wish I had been there the night that all went down"? Well, Live At Chan's is exactly that kind of work. It's a stunning document of a Nick Moss & The Flip Tops live show, managing to capture the interplay and energy of the band and its guest on a very good night. Nick and the boys have an unabashed love of old-school Chicago blues (as does East Side Slim), and this love is evident on every single track on the CD. Don't take the words old-school to mean the same as old-fashioned, because this is not the case. The Flip Tops are reverent to their roots, but not slavish to them. This music is living, breathing and full of soul! A 2nd edition of Live at Chan's, Live at Chan's: Combo Platter No. 2, was released in 2009 from Nick Moss & The Flip Tops, and one can only hope that it comes close to capturing the same spirit and sound of this 1st one. I can whole-heartedly recommend this album to all readers of www.stlblues.net; it is ensemble blues of the finest kind - STLBluesometer rating of 4.50. East Side Slim highly recommends all recordings from Nick Moss & The Flip Tops, as well as all recordings released by the Blue Bella label.
Lee Howland - aka "East Side Slim"