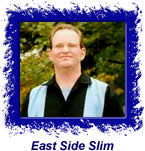 By East Side Slim
Guy Forsyth – Steak
{Antone's Records (2000)}
*Note: Guy and his band will be back at B.B.s Jazz, Blues & Soups on Sept. 16, 2008.
In the sake of full disclosure, I am a huge fan of Guy Forsyth's music. I'll try my best to remain unbiased in this review. That said, Steak is a very solid album. Steak could be called Forsyth's blues album, as it probably treads closest to the genre – but then again Guy is known for not allowing genre labels to pigeonhole him, and he certainly doesn't allow that to occur on Steak. If you're a fan of The Imperial Crowns or of Lester Butler's take on the blues (King King, 13), you'll enjoy this cd very much.
Guy is backed on the cd by several of Austin, Texas' finest and brightest. The list of players includes: Gil "T", George Rarey, Frosty Smith, George Rains, Stanley Smith, Steve James and last (but certainly NOT least) Wammo. Listen carefully to the cd, as each time you do you'll hear different textures, sounds, etc… Now, on to the tunes!
The Songs:
--all songs on the cd were written by Guy Forsyth, unless otherwise noted.
1. Mona – Ellas McDaniels (RIP Bo Diddley!)
--This is a faithful, yet not slavish, tribute to the great Bo Diddley song. It's played with a sparse arrangement based around the familiar shave-and-a-haircut rhythm, but lots of little surprises are thrown into the mix – including what sounds like a toy piano (billed as "one finger piano" in the liner notes). While the arrangement is sparse, Guy's vocals and harp playing here are full of emotion and intensity. Nice track!
2. Mad
--This track is definitely blues-rooted. It sounds like something that Howlin' Wolf would be happy with, especially lyrically. Wammo is playing different "things" throughout the track. If you can figure out what the "things" are you're good! Once again, Guy's vocal approach is very intense.
3. Louisiana Blues – McKinley Morganfield (Muddy Waters)
--this is a nasty, scary, grungy version of the old Muddy tune. It's rooted deep in the TX-LA swamps, with lots of slide guitar.

4. Good Time Man
--This is another dark, atmospheric blues, even more dark and stark than Louisiana Blues, preceding it. It sounds like Guy had some "issues" working on him when he made this album. Either that or the man just knows how to write and perform great emotion-packed music. Shoot, maybe it's both!
5. Lovin' Dangerously
--Here's a complete stylistic change from the last two very dark tracks. We've got a little Cajun two-step action going on, very quick tempo, much lighter than the last couple of tracks. It's a great sounding track, and it gives the listener a breather from the darker material found before and after it.
6. Tricks of the Trade
--OK, we've got a hard blues shuffle here. This is the kind of stuff you don't want your daughters listening to… it's all hip grindin' & struttin' & music from you know where. It sure sounds good though – just don't let your daughters – or their boyfriends - hear it!
7. Makin' Money
--Guy's harp playing is featured on this track. No distorted or processed vocals or guitars here - it's a straight, high-speed blues shuffle. It swings!
8. My Love Will Never Die – Willie Dixon
--Guy credits Otis Rush's version of this Dixon song in the notes to the cd. This really is Forsyth's blues album! It's definitely a slow blues performed very much in the Otis Rush tradition; Otis was a master of the slow blues. I don't know how Guy can put this much of himself into his vocal performances, but I sure do enjoy the results. You get plenty of his slide guitar here, too. Guy is a great slide player, as well as a top harp player, singer, and sawyer. The man plays musical saw, featured on the next track by the way…
9. Thibodaux Furlough
--This here's a spooky little track (not that little, at almost 5 minutes) full of that funk and mojo all the good swampy tunes are made up of. The musical saw and the clarinet most definitely have something to do with the grease on this one, as does Forsyth's vocal performance. Not a blues, but it's one of my favorite tracks on the cd. Listen all ye with open ears as you may be well rewarded…here, and everywhere else you may go.
10. Cadillac
--We've got kind of a crazy, carnival blues here. Believe it; I would not steer you wrong. It's just a fun little shuffle with lots of atmosphere and cool guitars. How can you go wrong with that? You can't!
11. You're Still Here
--Nice harp lead-in to this song, it's got a cool, slow, loping rhythm that get your head bobbing along involuntarily. Seriously grungy guitar…seriously greasy! Every time I hear this track I like it more. Think heavy old blues with cool modern twists.
12. Adam's Rib
--This is a killer track, which needs to be heard at one of Forsyth's live shows to be truly experienced - it's a show-stopper for sure. Take that advice to the bank, because I've been in the audience to hear and see the performance. It's a great story song, with Stanley Smith's clarinet work prominently featured to wonderful effect. Guy gets another chance to push the vocals here, so sit back and enjoy.
13. Poor Boy – traditional, arr. by Guy Forsyth
--This song is performed completely straight, just Guy and Steve James both playing National Reso-phonics and Guy singing along. It does a nice job of demonstrating how good a guitar player Forsyth is. It's a nice, low-key set ending tune.
The Verdict:
--I like this cd - a lot. It's definitely one of the most "bluesy" works in-total in Forsyth's catalog. It's powerful, nasty, thoughtful, crazy, cool, heavy… all the good things. As mentioned near the beginning of this review, if you liked Lester Butler's work, or even much of the Fat Possum catalog, this cd might just be right up your alley. Let's see…how about a 4.5 on the Blues-O-Meter.
Lee 'East Side Slim' Howland