 By Cornbread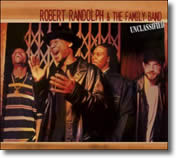 Robert Randolph & The Family Band – Unclassified
{2003 | Warner Brothers}
I only just recently heard of Robert Randolph when watching the Eric Clapton Crossroads Guitar Festival. Randolph is a young pedal steel guitarist extraordinaire.
Unclassified was voted one of 2003's Top 50 Album's of the year by Rolling Stone magazine. Additionally, Robert Randolph & The Family Band was nominated for two 2003 Grammy Awards.
So how would I classify RR & TFB? As blues funk with a strong gospel influence that produces some very groovy music.
The Family Band is:
Robert Randolph – pedal steel guitar, electric & acoustic guitars, vocals
Danyel Morgan – bass, electric & acoustic guitars, vocals
Marcus Randolph – drums
John Ginty – B-3 organ, piano
with:
Lenesha Randolph – backing vocals, lead vocal duet on Smile
Candice Anderson – backing vocals
Ricky Fowler – lead vocal duet on Smile
Neal Casal – backing vocals
Leon Mobley – percussion
….that's three Randolphs if y'all are keeping track.
Unclassified has 11 songs, all original – they are:

1. Going In The Right Direction – a really fast song, with great backing vocals and some of the fastest guitar work I've heard.

2. I Need More Love – very funky bass playing! A fun, R&B soulful song.

3. Nobody – outstanding guitar playing with R&B/pop vocals, again, check out Morgan's bass groove.

4. Soul Refreshing – a slower song with a bit of a Caribbean sound. Personally, I really liked it.

5. Squeeze – starts and ends with slide and some ultra funky bass for an excellent instrumental, oh, and yea there's plenty of mojo here.

6. Smile – is a slow, acoustic duet, the slide guitar gives it a country sound. I didn't really care for this song, but I bet it gets/got lots of radio play.

7. Good Times (3 Stroke) – I liked this song, it started with a guitar part that reminded me of Jimi Hendrix playing Star Spangled Banner at Woodstock, moved into an up-tempo song with minimal vocals. The second verse gives us distorted guitar, shredding solos and rap-like vocals. What a combination!

8. Why Should I Feel Lonely – outstanding playing, the guitar and/or organ was great.

9. Calypso – fantastic instrumental, the pedal steel playing is great, as is the Hammond B-3 by Ginty. It could have been called anything. My first thought when I saw Calyspso was that it's a remake of the John Denver song (which, by the way is one of my all time favorite songs.)

10. Problems – slow vocals with a classic rock sound.

11. Run For Your Life – the third instrumental, the bluesiest as well. I really like Randolphs instrumental pieces a lot.
Robert Randolph is a guitar great in the making. If you are not familiar with him, you will be, and tell your friends you heard about him first from Cornbread and STLBlues.net.
This is a good CD, not bluesy in vocals, but the pedal steel guitar gives it that bluesy feel. That being said, if this still sounds good then buy the CD. Musically, it's right on, the vocals are pretty good too. Rating 4.325.

Ciao' for now, peace.
Peter 'Cornbread' Cohen, CBP

Email - Cornbread@STLBlues