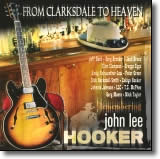 From Clarksdale to Heaven - Remembering John Lee Hooker
Zakiya Hooker put together a compilation album to remember her father, the late, great John Lee Hooker. A plethora of many fine musicians make this album an indulgence for a blues/rock fan. Guests include Peter Green, Jeff Beck, Gary Moore, St. Louis' own Johnnie Johnson, and Zakiya. John Lee Hooker defined a generation of blues music for his boogies and brilliant guitar playing. Though nothing can beat the real thing the track list below proves that Hooker has been an inspiration to many and still continues to be to this day. Hooker passed away in 2001 and a portion of the proceeds for this album go toward the John Lee Hooker Foundation. The web site is also notated below.
1. I Want To Hug You-Zakiya has lead vocals on this tune and Johnnie Johnson's piano playing is superb
2. I'm In The Mood-slow creepin' blues
3. Bad Like Jesse James-lovin' the lyrics; story tellin' blues
4. Will The Circle Be Unbroken-church/choir deep blues w/ mean guitar
5. Baby Lee-shufflin' rumba style
6. Ground Hog Blues-nice array of horns and vocals on this track
7. This Is Hip-jumpin' and groovin'
8. Crawlin' King Snake-a classic blues tune
9. I'm Leaving-more upbeat tempo and horns
10. Little Wheel-more story tellin'; dig the lyrics
11. The Business-fine piano and female vocals
12. Hobo Blues-good arrangement of instrumentation
13. Serve Me Right To Suffer-a Hooker classic; one of my favs on the disc
14. Redhouse-a treat straight from John himself; another blues classic
For more info visit: www.johnleehookerfoundation.org or www.johnleehooker.com
No one can or will ever top John Lee but this album was a pleasure to listen to. I give it a 3.85 of 5 on the STLBluesometer.