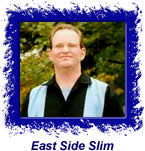 By East Side Slim
Paul Reddick – Sugarbird
NorthernBlues, 2008

Paul Reddick is a noted Canadian blues and roots artist who really should have a larger profile in the United States. Paul recently won Songwriter of the Year honors in the 2009 Maple Blues Awards, which is the Canadian equivalent of our Blues Music Awards (Handy's.) Most of you are already familiar with Reddick's work via a Coke-Cola commercial from a couple years back. Remember the Coke commercial that featured the song "I'm A Criminal…set to swipe and steal…"? Well, that was Reddick's work. It's from his 2001 NorthernBlues CD "Rattlebag".

Earlier in his career Paul worked with a group called The Sidemen. This was a tough blues band, based out of the Toronto area if I'm not mistaken. This eventually morphed into Paul Reddick + The Sidemen (although Reddick mostly tried to deflect the attention from himself). As the years have gone by Reddick has branched out and begun working with Colin Linden, another noted Canadian musician who is also a noted producer. Linden's hand is all over the Sugarbird CD, as he played guitar, wrote a couple of the songs, co-wrote the rest (mainly) with Reddick, as well as being involved in producing, recording and mixing the CD.

There are some fantastic musicians performing on this CD in addition to Reddick and Linden. Some names some of you may be familiar with include: John Whynot (piano), Hutch Hutchinson (bass), Stephen Hodges (drums/percussion), Garth Hudson (accordion), and Darrell Leonard, Joe Sublette, Jim McMillen and Jim Thompson on horns. This album struck me as being a love song, or lullaby, to someone very special to Mr. Reddick. Don't let that description scare you away, as the music here is highly interesting and completely engrossing. Reddick paints pictures with his lyrics, as well as with the melodies of his songs. This is a beautiful album in many ways, a beautiful piece of work, and a beautiful headphones album. Now, on to the songs…

The Songs:

1. Morning Bell: -- We start the album off in fine fashion here, with a folksy-bluesy-rootsy-shanty of a tune. It's driven along by the accordion work of Garth Hudson (The Band) and the acoustic rhythm guitar of Colin Linden. Just so he's not left out, Paul Reddick throws a few harmony lines in here-and-there along with Hudson's accordion. This song sets the tone of the entire suite of songs to follow.

2. I will Vanish: -- This is an atmospheric track, with lots of echoing guitar lines, sparse yet vibrant snare & cymbal work, stabs of electric guitar, all of it building on itself as the song plays out. The entire time Paul keeps his vocals in a talk-sing laid back mode, keeping full control of the proceedings. This is a nice track, and it sounds amazing through headphones!

3. Devilment: -- This is a fun track, built on a backbone of J.B. Lenoir's "Mojo Boogie". It's got a little rougher sound than most of the other tracks on the album, with a little more swagger. This would fit in a juke somewhere with no problem. It's a lot of fun.

4. Blue Wings: -- "Mary had a red dress…red dress…" This one is a beautiful song, with the CD's title coming from the lyric. Listen with ears wide open in order to be rewarded with all sorts of sounds, some obvious, many much less so. Yes indeed, a very beautiful song…

5. John Lennon in New Orleans: -- This song title may very well refer to the sound of the tune, as I can imagine (get it?) a John Lennon ballad mixed through New Orleans-style R&B. To my ear, I really hear a 1960's country-western ballad rolled all around in a New Orleans vibe. The song has a definite C&W piano line running throughout, with added touches such as tubular bells (chime sounds), horns, and percussion that almost sounds like muted tympani.

6. It's Later than you Think: -- This one is a jivey, swingin' cool track with a sound based in 1940's big band swing, yet thoroughly modern. Paul's relaxed vocals and Colin's distorted chording work much better than you'd expect, and the song has nice horn charts. Listen closely and you can hear bluesy piano running underneath it all, and to keep things bluesy Paul takes a nice little harp solo in the later part of the song.

7. Breathless Girls: -- With this song we have a beautiful – but not syrupy – ballad. The New Orleans vibes drips from the tune like Spanish moss hangin' from a giant old tree. Paul's atmospheric harp work adds to the mood, as does the muted trumpet.

8. Wishing Song: -- This may be the catchiest new song I've heard all year – I'm completely serious about that statement. If you can listen to this one without singing along AND without hitting replay on your CD player then you must be a mean one, Mr./Ms. Grinch. Honestly, listening to this song gives me chills, it's that good – and I had probably listened to this song 30 times (no joke) by the time I wrote this review. It's unassuming, relaxed, but is incredibly interesting to listen to. Listen closely people, listen for accordion, 12-string and national guitars, and harp. Geez, what a cool, beautiful tune!

9. Every Temptation: -- This song is a nice little love song, loping along with a bouncing rhythm track and with Paul's laid back vocals. Even though Paul is Canadian, this track could fall comfortably in the "Americana" genre (a genre label that I really don't care for, for what that's worth…) The song just has this gentle vibe, but all the while it maintains your interests. It's amazing how the sounds are all layered among each other, as you will hear different things with every listen.

10. Climbing Up the Hill: -- This song is a slow, gentle, ballad, featuring only accordion, acoustic guitar and vocals. It's a very pretty song, and it fits in well with the overall theme of the CD. The CD seems to me to be a lullaby of sorts, or a love letter if you will, to someone very important to Mr. Reddick.

11. If By This: -- This tune probably has the darkest feel of any song on this album. It's very atmospheric in nature, with heavily echoed single-note guitar lines and vocals, very sparse percussion and bass, and melancholy sounding strings. The strings lend the song a vaguely Appalachian feel at times.

12. Block of Wood: -- Well, we've come to the end of the CD. That made me a little sad, as I wasn't ready for it to end, kind of like when you're making love to that special someone you care deeply about and the two of you reach that point just short of, well, you know, and don't want that feeling to end. Yeah, sort of like that. Anywho, this tune is closer to the sound Paul had on some of his past CDs, harder edged, somewhat dissonant, very bluesy, lots of harmonica. The song takes you down to the jukes, but still fits the theme of the CD, as Paul sings of his heartfelt feelings for that one special girl of his. She might not have always been very good for him, but she's always been GOOD for him, if you get the drift.

The Verdict:
This sound of this CD is quite difficult for me to describe fully in words; you will just have to trust me and give it a listen for yourself. It is an amazing piece of work, very poetic in nature, a treat for the ears and most definitely a viable contender for contemporary blues album of the year.

I've been a big fan of Mr. Reddick's work for years now. He never stays in one place too long musically, with the sound of his albums varying greatly over the years. Some things that always remain constant are great songs, great musicianship and great production values, and that's certainly the case with "Sugarbird".

Just so everyone knows, no, it's not a straight blues album, whatever that really means. It is very bluesy, and anyone who appreciates great music will no doubt fall in love with this CD. I've tried it out on a couple friends of mine, and they all gave it Thumbs Up! It's now time for the rating to drop on this CD. STLBluesometer = 5.0 – yes, that's right, 5.0. The only mistake you could make with this album is not purchasing it for your collection!

For more information about Paul Reddick, visit: http://www.paulreddick.ca.

Lee Howland, aka "East Side Slim"