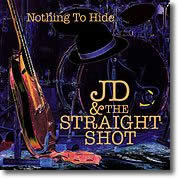 JD & The Straight Shot - Nothing To Hide
(2005)
Dolan travels from the Garden to Blues Bar with his debut release of Nothing To Hide which combines slow-burning blues (4, 9 and 10) together with ballads (tracks 1, 2, 8) and rock songs (3, 5, 7). By night, he is the lead singer and rhythm guitarist for JD & The Straight Shot. By day, Dolan is the chairman of Madison Square Garden and the president and CEO of Cablevision Systems Corporation.
JD & The Straight Shot: James Dolan (vocals, guitar, percussion, background vocals); Bruce Koplow (vocals, guitars); Jonny Rosch (vocals, harmonica, accordion, melodica, keyboards); Roscoe Harring (bass guitar); Wally Usiatynski (drums, congas, percussion).
Featuring 10 original tracks:

1. Ghost
2. Slow Motion In Reverse
3. Back Again
4. There's Something Wrong
5. Check It Out
6. Transatlantic
7. So Cold
8. Wish I Had A Life
9. Didn't Wanna Do It
10. Kill That Dog

Deep growling vocals on most tracks. Check It Out kind of reminded me of Tom Petty & The Heartbreakers. Transatlantic is an acoustic song, could easily be a Jimmy Buffet song. There's Something Wrong was the bluesiest song and my favorite, followed by Didn't Wanna Do It. This is a decent recording, it receives a 3.95 on the STLBluesometer. I would've liked more blues morsels.