 By Cornbread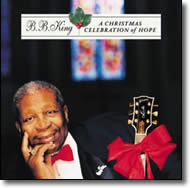 B. B. King - Christmas Celebration of Hope
{November 6, 2001 | MCA}
13 Christmas tracks served up B.B. King style with heaping helpings of R&B and blues. The songs are classic Christmas tunes with a ton more soul than original recordings or visiting carolers. B.B. gives us two original songs: "Celebration," which he first released in 1960, and a new instrumental, "Christmas Love." Christmas Celebration of Hope was self produced and recorded in New Orleans.


1. Please Come Home for Christmas is fairly mellow vocally and ends with classic B.B. King guitar work.

2. Lonesome Christmas has a bluesy swing to it.

3. Back Door Santa – I really liked this song, not like any Christmas song my mama would sing while baking cookies. This is a classic B.B. King. The elder blues statesman got his mojo goin' on.

4. Christmas In Heaven – a slow, mellow tune, with slow guitar and slow tempo. It's hard to go from the energy of Back Door Santa to feeling blue with Christmas In Heaven.

5. I'll Be Home For Christmas – an instrumental with a tad bit of organ throughout and a solo, but mostly Lucille (that's Lucille pictured on the cover with B.B.)

6. To Someone That I Love – v e r y m e l l o w, soulful vocals and a decent slower guitar solo.

7. Christmas Celebration – a swinging blues song with Christmas lyrics. Yummy song, great ending.

8. Merry Christmas Baby – as good as Louie Armstrong, the guitar solo was a nice add. B.B. has a great vocal vibrato for this song. One of my all time favorite songs! I've always heard this as Wonderful World.

9. Christmas Love – classic B.B. You will recognize parts of this instrumental as a Christmas song, but will remember it as a great B.B. King blues tune.

10. Blue Decorations is true blue. Yea you'll get them Christmas blues with this song. B.B. is joined briefly with backing vocals. The tempo changes halfway through the song. I never heard this song, I liked it.

11. Christmas Comes But Once A Year – swinging bluesy bass line is prominent. Horns and piano are nice adds. I was tapping my clod hoppers during the guitar solo towards the end.

12. Bringing In A Brand New Year – excellent! Great beat, great song.

13. Auld Lang Syne – the traditional Scottish song, penned in the 1700's as an instrumental. I thought this version was only fair.
Even Scrooge would have to dig this Blues CD. I love this CD, not only are the songs great versions but I really only listen to it for one month in the year. Christmas Celebration of Hope is a bit of a roller coaster ride of emotions throughout – when your up, your up. When your down, your down, and when your only halfway up you are neither up or down. Listen to this CD, depending on the track B.B. will take you up and bring you down.
Rating is a very strong 4.525

Ciao' for now, peace and happy holidays.
Cornbread