By East Side Slim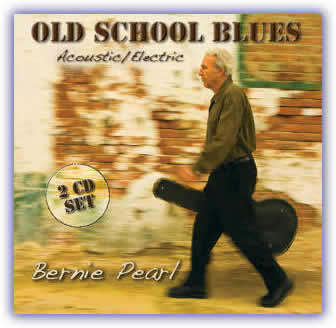 Bernie Pearl – Old School Blues – Bee Bump Music, 2008
This CD is a 2-disc affair, consisting of one acoustic, mostly solo disc and one relaxed electric back porch, or juke-styled, disc in various band configurations. Bernie's warm, unforced natural vocal style and his economical, extremely tasteful guitar playing is sure to capture the attention of blues lovers of many tastes. If you're thinking "what does this guy really sound like", comparisons to Doug Macleod would put you in the ballpark. Also, don't think that because I describe his playing as economical that he isn't a technically advanced player. Bernie is an incredibly talented player, who makes everything he plays sound much too easy.

Pearl is a native of Los Angeles, being born there in 1939. In fact, Bernie has enjoyed his 70th birthday this past October. He first began playing guitar in the 1950s, and was fortunate to have the opportunity to learn about the blues craft first-hand later on from touring blues and folk musicians at his brother's club, the Ash Grove; Bernie's "teachers" ended up being revered musicians such as Mance Lipscomb, Lightnin' Hopkins and Fred McDowell.

Along the way Pearl formed his own band, The Bernie Pearl Band, which featured Harvey "Harmonica Fats" Blackston on harp. The two men enjoyed a 15 year musical partnership, which lasted until the time of Blackston's death in January of 2000. The two men also formed Bee Bump Records, the label that "Old School Blues" is released on. In addition to being a blues musician, Pearl has worn many other musical hats. He began broadcasting his blues radio show "Nothin' But the Blues" in L.A. back in 1968, keeping the show alive on several stations through 1992. He also helped found the Long Beach Blues Festival. You think that's enough? Well, there's more. He's been a producer of other artists, and was named National Promoter of the Year by The Blues Foundation in 1987. AND…Bernie has taught blues history and blues guitar courses at the university level, including at Cal-State Long Beach. Somehow Pearl also finds time to continue teaching private guitar lessons. I don't know about you, but I'm thinking Mr. Pearl should be much better known by the blues community at large.
The Songs: (per liner notes, songs credited to the people Bernie 1st heard performing them)
Disc 1 – Old School Blues/Acoustic
1. Blues In The Bottle: (Mance Lipscomb, plus some Blind Lemon Jefferson)
--This is a solo acoustic piece, featuring Bernie's warm, unforced singing and delta-fied string popping.
2. Goin' Down Slow: (St. Louis Jimmy Oden)
--This blues standard is performed in a very different manner here than most of you are probably used to. It's a solo acoustic piece, played in a style influenced by Mance Lipscomb. You'll see that name a lot during the course of this CD review. If you aren't familiar with the music of Mr. Lipscomb, do yourself a huge favor and pick up some of his Arhoolie Records releases. Pearl's version here is a little sprightlier than the subject matter probably deserves, as are many of the versions of this song. Listen to the lyrics closely if you haven't done so in the past; they are telling a story of regret for poor choices made earlier in on in an aging, dying man's lifetime.
3. I Be's Troubled: (McKinley Morganfield, aka Muddy Waters)
--Another solo piece, this time played in a hard delta style - pre-electric days for sure. Bernie uses a very percussive guitar technique here, and it sounds great.
4. I'll Fly Away: (traditional, most often credited to Albert E. Brumley)
--Solo again, but in a vastly different style from anything heard so far. This is a gentle, finger picked tune played on a National steel guitar. This is a purty one!
5. Shake 'em On Down: (Mississippi Fred McDowell)
--Pearl's version of this song takes it back to the roots of the tune, played strictly on a steel guitar with slide. The contrast of the trebly slide sounds with Bernie's deeper sounding voice is very nice.
6. God Moves On The Water: (Blind Willie Johnson, Mance Lipscomb)
--If you are familiar with Blind Willie Johnson's vocal style, you know how harrowing his tales can be. This cut is played in his style, but sung in a style influenced more by Mance, definitely in a style more gentle than that of Blind Willie's. Lyrically, this song is the story of the sinking of the Titanic, and listening to this version would be a great idea before listening to Johnson's version, as the lyric is much easier to understand here.
7. Berlin Rag: (Bernie Pearl)
--Ah, I love guitar rags, which is why I enjoy Piedmont blues so much. This is a beautiful, as well as intricate, tune. Just try to listen to this without smiling; I double-dog dare you!
8. Country Sugar Mama: (Son Jackson, Sam "Lightnin'" Hopkins)
--This track could well be my favorite cut on disc 1. It's a solo piece, as all them have been so far, set to a funky little groove, featuring fine picking and a sly vocal.
9. Pawnshop Blues – "Three Ball Blues": (Brownie McGhee, Blind Boy Fuller)
--This track, as well as the next one, Rock Me Mama, adds acoustic bass to the instrumentation. This old Blind Boy Fuller/Brownie McGhee number is a perfect fit for Bernie's style, and the added bass lends just a touch of uptown feel to the tune; very nice, indeed.
10. Rock Me Mama: (Mance Lipscomb, Arthur "Big Boy" Crudup)
--Pearl's version of this classic blues stays pretty close to the Crudup version, and features some fairly intricate guitar work, which contrasts well with the dark, deep tones of the acoustic bass. Good blues often relies on dynamic tension, push-pull if you will; in theory it sounds so easy to do but almost never is. When done well, as it is here, it allows a song to reach right into your gut, right into your soul.


Disc 2 – Old School Blues/Electric
1. Automobile: (Sam "Lightnin'" Hopkins)
--This is Pearl's take on an early Hopkins song. It's really very true to the feel of Lightnin's work, capturing the ominous feeling that is present in much of Lightnin's music. Much of that tension is due to the use of dynamics, working the space between the notes, which Bernie and band do very well here. After thinking about it, this thing is almost closer to a North Mississippi drone ala Jr. Kimbrough than to Lightnin's original.
2. Cherry Ball: (Mance Lipscomb)
--Personally, I'm familiar with this song via the work of Skip James. Pearl's version certainly has a brighter, happier feel to it than James' version, which was really quite harrowing.
3. Crosscut Saw: (Tommy McClennan/Albert King)
--While this may bear some resemblance to the version of the tune you are likely most familiar with (Albert King's super-charged version), this version has been rearranged, moving away from King's arena-sized version back towards something closer to McClennan's old mid-30's style. It makes me think of what this song may have sounded like in the early 1950's if originally recorded by Muddy Water's band with Otis Spann. The short take on all of this – this sounds nice!
4. Driving Wheel: (Herman "Jr." Parker)
--Vocally, Bernie's singing style is quite reminiscent of Parker's. He sings in an unforced, natural relaxed style here that fits the song well. This is a nice take on this classic tune, with the piano work here providing a refreshing addition to the song.
5. The Ballad of Freddie: (Mance Lipscomb)
--Bass-drum-guitar trio format on this track. As the liner notes state, this is a tale of sex, infidelity and murder. It's performed in an near-upbeat, relaxed style that almost makes you forget what the words are saying.
6. If You Lose Your Money: (Brownie McGhee)
--The liner notes state this tune is performed in a "Bo in N. O." style, as in the Bo Diddley beat in a New Orleans 2nd line rhythm. Yep, that sums it up very well. This is a nice rollicking tune that is almost impossible not to shimmy around to.
7. Rocks & Gravel Boogie: (Mance Lipscomb words to a North Mississippi beat)
--This cut has an unmistakable North Mississippi beat. The guys could stretch this one out for half an hour, easy. It's got that hypnotic groove working along with a gritty, rougher guitar sound that is oh-so satisfying.
8. Baby, You Don't Have To Go: (Jimmy Reed)
--The boys take this Jimmy Reed classic and rearrange it into an uptown-Chicago blues – think Otis Rush meets Magic Slim & The Teardrops, as the singing style and single note picking are both from the Rush school while the feel is right out of a Teardrop shuffle. Just so there are no misunderstandings, this is a good 'un! Get it? Otis Rush… My Baby's a Good 'un?... Aw, c'mon now!
9. You Know I Love You: (Otis Rush)
--Speaking of Otis Rush, this last cut of Disc 2 is Bernie's take on one of Rush's tunes. It's firmly in the Rush school. The contrast of Bernie's slow, relaxed singing and the quick-picked staccato single note guitar runs is very nice, working that tension back and forth as the best blues tunes seem to always do.
The Verdict:
This CD, Old School Blues from Bernie Pearl, is a hidden gem. If you enjoy older blues styles, where restraint and "feel" are more important than how many notes can be crammed into a measure, then seek out this CD. Sometime it takes a CD several spins before it connects with me, but that wasn't the case here at all. By the time the 1st song was half-way through I knew I had something very special in my hands. Pearl's guitar work is magnificent, his voice is downright charming and his delivery is relaxed and arresting at the same time. He has taken each of the songs on this album and put his personal stamp on them, injecting many of them with renewed vigor. Let's rate this bad boy – Old School Blues is receiving a 4.5 on the STLBluesometer.
For more information concerning Bernie Pearl and his music, contact Bernie via his email, or investigate the following web links:
www.myspace.com/berniepearl | www.facebook.com/people/Bernie-Pearl/1447579449
The following is a quote from Bernie, describing what his music is all about – "I'm not a retro player. I'm playing real blues for right now."
Lee Howland - aka "East Side Slim"