By Dianna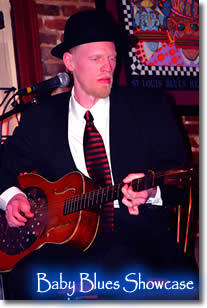 Jeremy Segel Moss & Kari Liston did it again (BUBG). They put on one of the best Baby Blues Fests ever, and their dedication in making sure that the next generation of blues performers can be heard and to continue the blues for years to come. I have been to all 3 Baby Blues Fests and I especially liked this one. The entertainment was outstanding with the many variety style of blues.

The evening started out with a real treat, as Minister Amos Isaac & Rapture gave an inspirational performance. It is no surprise that St. Louis has some of the best gospel around. That was so true that night, the house was rocking with the spirit of gospel, can you feel it...I did.

Then the group of Levee Town from Kansas City MO. The group was a little bit rock & roll and a whole lot of blues. The website for the Levee Town is leveetown.com. Then everybody's favorite blues band "The Bottoms Up Blues Gang" - Jeremy and Kari and with harp player Adam Andrews - took center stage and with their style of blues (from styles of Muddy Waters to Memphis Minnie to Ani DiFranco).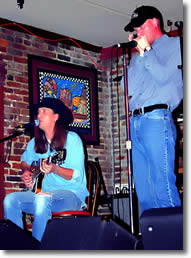 Following BUBG came the friends, many from other local blues bands. They included the Shakey Ground Band, Jeremy West (Alvin Jett drummer) and Brian Curran.... and the jam began.

It was the best of the best coming together. From New Orleans came the deep south sound of Macy Thomas (influences were Jimmy Rogers and Robert Johnson). Macy is from St. Louis but settled in New Orleans. It was a real treat to hear the sounds of Macy, he brought back the sounds of yesterday from where blues originated - he had the audience standing up in their seats wanting more.

Then Brian Curran with harp player Adam Andrews gave an outstanding dual performance. Following was the group everybody was waiting for Mr. Eddie Taylor, guitarist/vocalist whose style is traditional Chicago Blues (son of Eddie Taylor, a guitarist who himself had a lustrous blues career).

It was a great evening of blues, with styles for everybody and I enjoyed all of them...Looking forward to next years Baby Blues Fest 2005. Dianna Trombino Mestman aka Lady Di - ladydibluescorner.com. I want to thank everybody for the effort that put into this event!