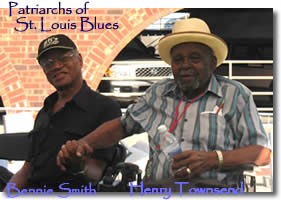 Day 1 of the 2004 Big Muddy Blues Fest opened on a steamy St. Louis summer day, but with no mention of rain. Quite a change from last weekend at the Sparta fest.

Promise of great music was palpable to the gathering music lovers, as the stage crew busied themselves with last minutes preparations. The St. Louis Blues Society was on hand with thier ever-expanding clothing line, with shoppers buying them up all day long. "Sales are good", according to Blues Society volunteers. Not a member of the Blues Society yet? Join right now, it's good Blues karma.

Long standing legend David 'Honeyboy' Edwards was up first, showcasing an outstanding acoustic set, with some fine harp working along. Honeyboy Edwards began playing music at age fourteen, performed with Big Joe Williams in 1932 and toured briefly with Charlie Patton in 1934. He played with The Memphis Jug Band from 1935 to 1936 and worked with Walter Horton in 1936 and Robert Johnson in 1938.
He began recording for the Library of Congress in 1942, when Alan Lomax tracked him down to be recorded for the Library of Congress' Archive of American Folksong as a major national resource.

Fast forward to 2004, and Honeyboy seems to still be at the top of his game, putting on a well-received demonstration of classical Delta country blues. Following Honeyboy was St. Louis' own Master of the Stratocaster, Mr. Bennie Smith. Bennie has been a fixture on the St. Louis Blues scene for a long time, and has quite an interesting story to tell. Bennie performed some his standard covers, such as 'Drown in my own tears', 'Stand by me', and more. Bennie and his solid band Urban Blues Express can be heard around town each week, in case you missed them, or just want more!

The Holmes Brothers were up next, with a very soulful, gospel-tinged set of music. They've recorded with Van Morrison, Peter Gabriel, Odetta, Phoebe Snow, Jungle Brothers and Joan Osborne, and have gigged all over the world, even performing for President Clinton.

A stage push was then in order, to catch some of St. Louis' finest. Over at the President Casino stage were the sounds of the Melissa Neels band, always a pleasure to hear. Then it was 2 blocks of uphill cobblestone to the Rich McDonough show, where Rich was showcasing his new band, which did a silky version of 'Yellow Moon', a Neville Bro's standard. Just a block away, Kim Massie was beginning her set over at the Embassy Suites stage. Kim, just in case you don't know, is one of St. Louis' biggest Blues voices, captivating the crowd with her styles, ranging from a powerful cover of 'At Last', to a burning version of "Whole lotta love", which certainly pleased to crowd, judging from their standing ovation.

Back to the main stage just in time to witness the magic that is Clarence 'Gatemouth' Brown. Louisiana-born, Texas-raised multi-instrumentalist Clarence "Gatemouth" Brown has been dishing up his unique blend of blues, R&B, country, jazz, and Cajun music for more than 50 years. A virtuoso on guitar, violin, harmonica, mandolin, viola, and even drums, Gatemouth has influenced performers as diverse as Albert Collins, Frank Zappa, Lonnie Brooks, Eric Clapton, and Joe Louis Walker.

Clarence was in command of all his skills on this night, demonstrating what he termed 'Louisiana Bayou Rock'. Joining Gatemouth near the end of his set was Bennie Smith, as they teamed up on 'Okie Dokie Stomp', with Bennie working the Stratocaster as Gatemouth joined in on fiddle. A great way to end Day 1. The fun continues, as Day 2 brings even more great sounds to the Big Muddy. We'll see you there!