---
It's really hard to condense the essence of the Jazzfest experience in a few words. It's a virtual musical Gumbo, with ingredients of Blues, Gospel, Alternative, Reggae, Soul, Cajun and Zydeco all added together to deliver one of the finest musical events you can find anywhere! Add great weather, great food, and the Crescent City itself, and you can't go wrong. Here's our 2001 photo review, enjoy!!

Sonny Bourg and the Bayou Blues Band
began the day singing of the "Land of 1000 Dances"
---

Tab Benoit telling the House of Blues crowd
"I can't wait to get back home where the sun is nice and warm",
as he's joined onstage by Tabby Thomas
---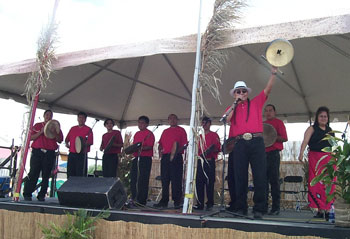 Musical Diversity is one of the most exciting features of Jazzfest.
Here are the Black Lodge singers performing at the
Native American stage.
---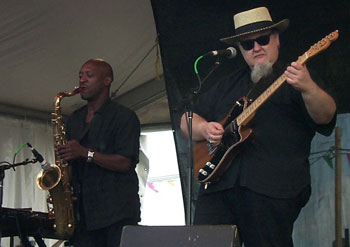 Blind Bryan Lee and the Blues Power band.
Bryan told the crowd, "It's so great to be at the Festival"!
---

Cyril Neville getting funky at the Congo Square stage,
telling his fans to "shake what your Mama gave you"
---

Music is a vital part of New Orleans culture,
you'll find it everywhere!
---

That second-line sound, Jazzfest style!
---

Some authentic New Orleans cajun tunes!
---

Paul Simon filled the Acura Stage area to SRO, and was joined by
Aaron Neville for a great rendition of "Bridge over Troubled Water"

---

Need a break from all that great music?
The Jazzfest Art Fair is a fun diversion!
---

Sherman Robertson rocking the House of Blues stage!
---

Okay, this isn't music, just the natural beauty of New Orleans!
---

Jazzfest has came and went, and if you havent experienced this world-class musical event yet, make this a "must-do" on your musical agenda. It amounts to a sensory overload of music, food, and fun! You'll be a Jazzfest lifer, just like the rest of us! See you next year at the Fest!!