Roots, Blues and BBQ 2009
By Big Dave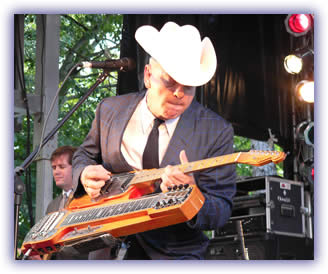 The 2009 Roots, Blues, and BBQ Festival of Columbia, Mo. just earned a coveted 5 on the STLBluesometer. It was a world class event artistically, celebrating it's 3rd year!

On a musical road trip like this, a visit to the local community radio is always in order, and we were able to catch up with David Owens - general manager for KOPN 89.5 - for a short tour of the station. It turns out that Bill Wax, of Bluesville on XM satellite radio, spent several years at KOPN!

The musical talent was diverse, as most roots festivals are, and that created lots of opportunities to discover new music. Some of the bands STLBlues was able to catch up to included these - Carolina Chocolate Drops, John Cowan Band, Blind Boys of Alabama, Black Joe Lewis & The Honeybears, Southern Culture on the Skids, The Wilders, Music Maker Revue, Pinetop Perkins and the Perfect Age of Rock 'n Roll Blues Band, James Hand, Booker T, Sonny Moorman, Funky Butt Brass Band, Chump Change, Atlanta Boogie featuring Abb Locke, The Itals, Junior Brown, Ana Popovic, Rory Block, The Bel Airs, and Mike Zito. Not bad for 36 hours!

Tim Duffy of the Music Maker relief organization was on hand to share his message - Music Maker has been a core group in the Festival line up every year and Festival organizers believe there would be no Festival without them. Steve Sweitzer is the co-founder of Thumper Entertainment who produces the Festival and has been a supporter of Music Maker for more than ten years. Sweitzer knew Music Maker was a perfect fit for the Festival because they represent the core mission of the Festival. Over 750 volunteers help drive this event, and according to fest staffer Tara Hart, "we couldn't do it with out them". Lots of credit is due, as the volunteers, Thumper Entertainment and the City of Columbia all teamed up to create a great music event, now moving into it's 4th year! This fest earns a solid 5 on the STLBluesometer, and so does the great BBQ! Enjoy our photo gallery below, Big Dave

Publishers note -- Still need more festival in 2009? Be sure to visit the Taste of St. Louis, for the event known as STLBlues Unplugged. We'll feature over 20 acts, with an acoustic vibe! You'll definitely get a 'Taste Of' the St. Louis Blues!
Enjoy our image gallery of the 2009 Roots, Blues and BBQ
Click on buttons below, drag the thumbnail panel where you want, and enjoy the show!