Nick Curran plays the Beale
Nick Curran brought his unique sounds to the Beale on Broadway for a very appreciated performance! It seems when a traveling band finds a club they like, they stick with it! This makes the Beale their blues 'home away from home', as they played it each visit to St. Louis.

Nick Curran is an original new talent who has captured a golden musical moment in time and made it his own. A twenty-first century hybrid of Little Richard and T-Bone Walker, he not only skillfully reinterprets R&B and jump blues classics in the exact style of the original recordings, he also crafts original tunes that stand up very well to the masters. On Doctor Velvet, his national debut recording on Blind Pig Records, the young guitarist/vocalist displays a veteran's mastery of the nuances of roots rock and blues idioms. It's surprising that someone so young could breathe new life into musical forms that are more than twice his age, yet do it in such a way that makes the familiar sound startlingly new.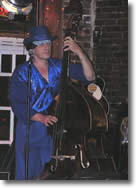 One of the first things you notice upon listening to Nick Curran's recordings is how much they actually sound like classic R&B records from the late 40's and early 50's. If they weren't on one of those little silver discs, you'd swear you were listening to rare 45s or 78s. Using a live, one-take technique and vintage recording equipment, Curran uncannily manages to recreate not only the sound but also the spirit of those earlier, wonderful times. At 15 Nick was playing guitar with his father's blues band, Mike Curran and the Tremors. Rockabilly drew Nick's interest, and his path led him to an introduction with rockabilly legend Ronnie Dawson.

He quickly joined Dawson's band and began his first national tour, playing guitar with Dawson for the next six months. Word soon gets out, and before long his reputation as a solid guitarist was spreading throughout the music community. Following Dawson's tour, he was soon back out on the road with Texas rockabilly queen Kim Lenz.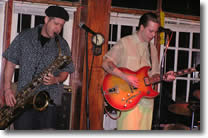 His guitar work on that tour impressed Lenz so much she asked Nick to move from New England to Dallas to join her backup band, the Jaguars. He stayed in that band for two years, getting some recording experience along the way on one of Lenz' albums (The One And Only).

One of the local musicians who took notice of Nick's emergence on the Austin scene was Jimmie Vaughan. Impressed by what he heard on Curran's CDs, he invited Nick to sit in with him at a show at Antone's and later, in a Blues Revue interview,
cited Curran as one of his favorite up-and-comers, calling him "just a total ass-kicker."

When it came time for Nick to record his national debut on Blind Pig Records, Vaughan was happy to join Curran in the studio to guest on a couple of tracks.

Now a W.C. Handy Nominee, Nick Curran is a rising star on the Blues Circuit. We wish the band the greatest success, and we at STLBlues look forward to seeing Nick play St. Louis for many years to come!
Blues News you can use