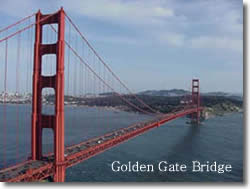 On a grey, rainy St. Louis morning, accompanied by the occasional lightning & thunder, STLBlues departed for Northern California, and the SF Blues Festival. It's always fun to travel to a new musical experience, especially when it involves visiting a city as beautiful as San Francisco.

In it's 31st year, this event is the brainchild of Tom Mazzolini. Tom founded the San Francisco Blues Festival in 1973 to educate the public about the history and evolution of the blues in the San Francisco-Richmond-Oakland area in the 1940s and '50s.
A evening was spent with friend & STLBlues correspondent Jim V., who lives in Placerville, AKA 'Hangtown' of CA Gold Rush fame. A view of 100 miles off the back deck displayed the vast beauty that is the Sierra Nevadas, always stunning to behold for this Midwest flatlander.

Ferry trip to SF

Day 1 of the Fest mandated an early rise time of 5 am, for the drive into Vallejo, CA. in time for the 8 am ferry into San Francisco.
As the sun rose, We rolled out at 6am sharp, SF bound, Jim, his friend Susan, and Boots the dog. Jim V., a CA native AND a former St. Louisian, made for a great tour/fest guide.

Arriving at Vallejo, we boarded the Bayline Ferry bound for SF, and a very scenic trip! Arriving around 9am, a long walk along the Embarcadero brought us to pier 39, also known as Fishermans Wharf. A short cab ride later, and we were there, at the San Francisco Blues Festival!

We arrived just before the gates opened, and were able to claim some great festival real estate, giving us a perfect stage view. Tom Mazzolini was on hand, and welcomed STLBlues to his event. The Fest soon began opening up with the Blue Eyed Devils, a well known Bay Area group with a very loyal following, musicians whose sound dates back to 1940s Delta blues.
Following was the Craig Horton band.His accomplishments are critically acclaimed, earning him recognition by the Bay Area Blues Society for his contribution to West Coast Blues.

Jackie Greene was up next. This young Bluesman has established quite a presence here in the Bay area, an accomplished musician on acoustic and electric guitar, harmonica, acoustic and electric piano and Hammond B-3 organ.

Following Jackie to the stage was Melvin Taylor and the Slack Band. One of the most exhilarating blues guitarists to emerge in the past decade, Melvin Taylor is more a blues innovator than a purist, mixing jazz chords and rock influences into his tapestry of electric blues

Shoutin the Blues' featuring Tracy Nelson, Angela Strehli & Linda Tillery was the next act, and one STLBlues had been looing forward to.

Tracy, now in her 5th decade of performing, established her West Coast presence back in 1968 with her band Mother Earth. Linda Tillery proved magical also, in this power trio, with a voice that critics have compared to those of Mahalia Jackson and Aretha Franklin.

Angela Strehli, an incredibly gifted singer and songwriter, a Texas blues historian, impresario and fan, added her very trademark sound to the mix. Inspired by the blues and R&B music that she heard on late-night radio, Angela took up the harmonica and bass before becoming a full-time vocalist.

The day was far from over, as Magic Slim and the Teardrops were the next band up. As Blues Revue wrote, "Whoever the house band in blues heaven may be, even money says they're wearing out Magic Slim albums trying to get that Teardrops sound down cold."

Roy Rogers and Norton Buffalo followed a great set by Magic Slim. Roy Rogers is a highly acclaimed San Francisco Bay area artist who is known as one of the premier slide guitarists performing today.

In Rock, R & B, and Blues circles, as well as in New Age, Country and Jazz circles, Norton Buffalo is widely acclaimed as the finest multigenre harmonica player of our time.

The sounds of this festival, the oldest Blues festival in America, could only be matched by the spectacular backdrop of the San Francisco Bay & the Golden Gate Bridge!

One of the most prominent figures in late 20th century blues, singer/multi-instrumentalist Taj Mahal was the closing act of the day.

Taj Mahal played an enormous role in revitalizing and preserving traditional acoustic blues. While he dabbled in many different genres, he never strayed too far from his laid-back country blues foundation.

An excellent choice to close out Day 1 of the fest, and great music to depart to, as we began to retrace our cab-ferry journey of earlier. Back to the hotel, to recharge for Day 2 of the SF Blues Festival.