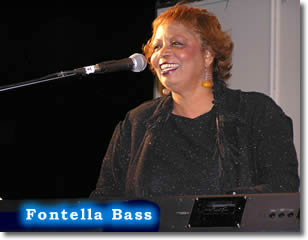 It was a great day to enjoy the Blues, as the musical magnet known as the Old Webster Jazz & Blues Festival filled the streets to a SRO capacity. It's nice to see so much of St. Louis turn out to enjoy the sounds of two musical icons that happen to call St. Louis home, Johnnie Johnson and Fontella Bass!

With beautiful weather beckoning the music fan to Old Webster, STLBlues showed up in time to catch the smooth jazz sounds of the Webster University Jazz Band, with

CarolBeth True at the piano. This world class jazz band is always a pleasure to witness, with each member a 'professor' of thier chosen instrument.



The 'Blues weather window' kept drawing music lovers, as the Johnnie Johnson / Fontella Bass fans started to crowd in. Fest promoter Dawn D. informed STLBlues that this crowd was 3 times larger than last years. No surprise to STLBlues, as the word spreads fast about these musical treasures. By the time Johnnie arrived for his show, the streets had really filled in.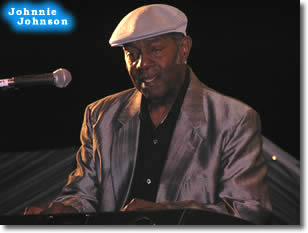 The moment had arrived, and as Johnnie Johnson climbed the steps to the stage, the crowd exploded in a very warm greeting. This Rock and Roll Hall of Famer loves to play his home town, and it was evident by the smile on his face. Johnnie's star has risen over the years, bringing him the super-stardom he's been deserving of for years!
Joining Johnnie was the incredibly talented Fontella Bass, showcasing the voice that gave fame to the song 'Rescue Me'. Fontella paid honor to another great St. Louis R&B icon, "this is the flip side of Rescue Me, it sold

a million, The Soul of a Man - written by Mr. Oliver Sain". Fontella thanked everybody on hand, with special thanks to fest organizers Dawn and Dan, and the Mayor of Webster - "she brought me some water"!

Backed by the solid lineup of Richard Hunt on drums, Tony T. on guitar, Gus Thorton on bass, Stewart Williams on sax and Jimmy Rossi on the trumpet, the music just kept getting better and better. Johnnie did a exciting cover of 'After

Hours', showcasing the style that is uniquely Johnnie Johnson. 'Tanqueray', co-written by Johnnie and Keith Richards of the Stones, was a mandatory! A smokin' version of 'Red Top' really got things going, and the dance area stageside soon filled.



The show came to a spectacular end, but the crowd wasn't about to let Johnnie go that easy. A rare event occured, a Johnnie Johnson encore, to end the evening on a perfect note. It was a spectacle to see, as 2 blocks of fans came to thier feet in a explosion of applause, sharing thier appreciation for this magical music event. Mark your calender for the 2004 Old Webster Jazz & Blues Festival!!