Kenny Neal and the Neal Brothers Band
---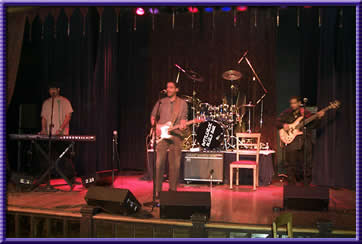 Bringing a touch of Baton Rouge to the Bottleneck Blues Bar recently was the Neal Brothers Band, led by Kenny Neal!

Born October 14, 1957 into a deeply rooted multi-generational blues family from Baton Rouge, Louisiana, he's been playing the blues since he was a small child. He first learned the blues from his father, harpist Raful Neal, and family friends like Buddy Guy, Lazy Lester and Slim Harpo. It was Slim who gave Kenny his first harp, trying to pacify the crying three-year-old boy. It worked. Kenny mastered harmonica, and quickly moved on to bass, trumpet, piano and guitar. He first performed at age six, playing piano at one of his father's gigs. By the time he was 13, he officially joined his father's band as a bass player, before being recruited as Buddy Guy's bassist at 17. Following Buddy's advice to concentrate on his guitar playing, Kenny relocated to Toronto, and -- along with his brothers Raful, Jr., Noel, Larry and Ronnie -- formed the Neal Brothers Band.


Opening the show with a classic Albert King "born under a bad sign", Kenny paid homage to the legends, with covers of Jimmy Reed, Muddy Waters interspersed among his originals. A favorite of STLBlues - "Howlin' at the Moon" - showcased Kenny's songwriting ability. It was a high energy show, with Kenny showing his mastery of the guitar, harp and steel guitar throughout the evening. Being from Louisiana, the evening wasn't complete without Kenny sharing some zydeco, which he delivered with a great version of "Don't mess with my TuTu". With his infectious enthusiasm for his art, Kenny and the Neal Brothers Band soon had the dance floor full and the joint jumpin! A great evening of music by one of Louisiana's finest musical families, the Neal Brothers!