STLBlues.net wins ''Best Choreography' in the Idiotarod!


The 2011 race is over, but the need to feed the hungry isn't!




YOU CAN STILL CONTRIBUTE!




So far Operation Food Search raised over $18,000, lets make it $20,000!



Donate to operation
HERE'S HOW
Click image to enlarge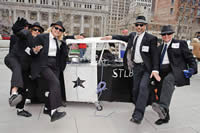 • The Downtown St. Louis Idiotarod pays homage to the Alaskan tradition of the Iditarod where dogs pull a sled and musher across the Iditarod Trail.
• This event is similar, except we replace the dogs with our Blues team and the sled with a shopping cart, set the race on the streets of Downtown St. Louis. Our theme was the Blues Brothers & the Bluesmobile!

• Teams of five people will venture throughout downtown stopping at checkpoints and completing challenges to continue and win prizes.

• The date is set for February 26, 2011 and like the Alaskan event, the race will go on regardless of rain, sleet, snow, wind or even a bright, sunny day.
2010 was the inaugural year for the Downtown St. Louis Idiotarod and over 35 teams competed and raised over $7,500 for Operation Food Search – the most successful virtual food drive to date. Teams ranged from Scooby Doo & The Mystery Machine to Mad Max, and Speed Racer.