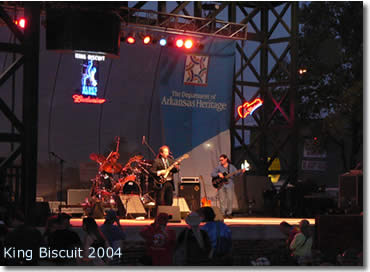 The King Biscuit is always in early October, generally a great time to head south from St. Louis to grasp one last warm weekend of weather and great music. Held in possibly the best environment to enjoy the blues, along the levee banks of the Delta Mississippi river.

The musical heritage that claim these small Mississippi and Arkansas towns rivals that of the Texas-Louisiana musical connection, spanning back to the origin of Blues music in America.

Artists such as Sonny Boy Williamson, Robert Lockwood Jr, and Honeyboy Edwards claim Helena as home, as does the radio station KFFA and 'King Biscuit Time' - the longest running Blues radio show, still hosted by 'Sunshine' Sonny Payne, a legend himself. Nearby is Clarksdale, Mississippi, home of so many historical treasures of Blues history and culture. There's the Delta Blues Museum, the Ground Zero Blues club, where you may meet owner Morgan Freeman just hanging out on a Friday night, and of course find your way to the 'Crossroads' of Robert Johnson lore. If tracing the roots of musical history interests you, check out the Ultimate Blues Tours of our friend Mac Adamson!

The Thursday music was going strong as we made our way into the sleepy community of Helena, Ak. This town seems frozen in time, a look back at the delta, amidst a landcape of cotton & river. The community of 7,000 lives for this event, as over 100,000 musically motivated fans converge on one of the shining spots of live music. We decided to try a campout this year in Tent City, a great place to reside during fest. The after-party held along the campfire is one of the festival highlights, as musician after musician steps out of the shadows to play a little. Michael Burks was vacationing there this year, although he was coaxed onstage by Anson Funderburgh to jam a bit. The weather was wet, muddy and cold, but as one Tent City resident proclaimed, 'it ain't fest unless it pulls your shoes off'! You may not agree with that philosophy, and prefer your camping includes room service and a jacuzzi!

The King Biscuit fest remains one of our favorite festivals, as nowhere else we've been captures that "Delta feeling" quite like it! Here's our photo review of our time at 'Da Biscuit', one of America's finest fests, 19 years young!

Bobby Radcliffe

Bobby Radcliffe

Corey Harris

Jimmy Thackery

Tent City USA

Frank Frost mural

Downtown Helena

The Delta Dukes

The Delta Dukes

Eddie Bo


Eddie Bo


Eddie Bo

Tony Lynn Washington

Workin' the bass


Pinetop Perkins

Pinetop Perkins

Rain gear fashion

A moment with Pinetop