Keb' Mo' just played the Pageant, bringing his unique sounds to a very appreciative St. Louis crowd. Beatle Bob was even spied in attendance, in his standard stageside mode.

Opening the show for Keb' Mo' was Kaki King, a 23 year old who displayed her intricate guitar tunings and neck tapping, a seldom seen percussive accompaniment. Kaki honed her guitar skills in the New York subways in the daytime and pulling beer at a rock club at night. Playing a long, involved set, occasionally over the top, she then exclaimed "I've worn myself out". A smooth sound, we'll be hearing more of this young star

Keb' Mo' and his band then took the stage, which brought everyone to their feet. Playing a mix of his work, Keb' showcased some material off his new CD 'Keep it Simple', with a tribute song to BB, called appropriately 'Riley B. King'. Clearly enjoyed by St. Louis, the dance floor became SRO for all his fans on hand.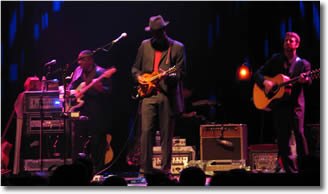 Keb' came to the genre late. His early professional resume included work in rock/R&B fiddler Papa John Creach's band, a 1980 R&B-inflected solo album for Casablanca, and a stint with the vocal group The Rose Brothers. However, his work as a guitarist in Monk Higgins' group and his later interest in the music of blues legend Robert Johnson (to whom he bears an uncanny physical resemblance) led Moore to fuse his pop and blues sensibilities as Keb' Mo'.

Be sure to catch this talented artist live when you can, until then grab some of his CDs in our store & learn what you've been missing!


Review below sent in by Billy

The band members were introduced later in the night but here are their names (?? on spelling). On bass was Reggie McBride, Les Faulkener III on drums. Clayton Gibbs on mandolin, banjo, and electric guitar, Jeff Paris on the keyboard and Harmonica.
Keb' Mo' put on a dobro and slide, and said something about taking it out on the back porch....the keyboard player strapped on a harmonica and the words went like this "This world is driving me insane don't want to be a superman." There was a soulful duet between Keb' and the harmonica player. All the guitarists were front and center jamming at the end of the tune. the intro was here comes a little preachy song, Keb' played on a miniature alto guitar and sang, "Get out the way and let your light shine, you the only one like you."
Then he said, 'Let's go down South.' They sang Sweet Angelina with a lot of head bobbing and picking. The banjo was good.
He sang a little song about the blues slippin' out of town. Things got so good for a while Keb' got complacent. He was havin' trouble singing the blues cause things were going too well. He was slackin'.
I was wrong I admit it.... not gonna make it.... featuring Keb on the electric guitar with his harmonica strapped on dobro "I'm standing in the station with tears in my eyes." The keyboard player did an awesome harmonica solo followed by a keyboard solo. Keb came back in at the end with a rousing dobro solo heavy on the slide. At the end all the band was dancing and jamming... This is when he introduced the band and all got a standing ovation.
Keb played a tune for the big women, "Gimme what you got..."
Keb' featuring Keb' mostly on a real easy and tender tune..."It's about that time baby please don't go. Who is that man who made you leave? Just come on back." Everyone in the audience began to sense Keb' was playing an exit song.
"We need a payment from you. Soon as I can pay" The audience responded on cue, "soon as I can pay". Clayton Gibbs and Keb' did a duet and then Clayton played a guitar Solo that had everyone up on their feet.

The standing ovation went on for 10 minutes and the crowd was charged when the band came back....
Keb' peeled off his sport jacket for the first time of the night. They played 4 to 5 great songs.
I did not know Keb had a spritual side but the opener after the standing O was heavy on the spiritual....."You might be saved. It might be God trying to get your attention."
She Just Wants to Dance.
Hello My Friend It's been a While.
I want to make myself a better man. Gonna make my world a better place.
Yo Bro, Billy