STLBlues at the Taste of St. Louis 2009
By Big Dave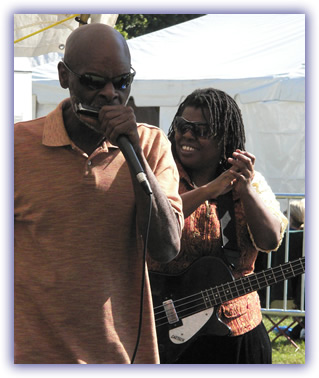 The Taste of St. Louis just ended, and it was a great one, earning a 5 on the STLBluesometer. This year featured the debut of the STLBlues stage at the Taste.

The award-winning Taste of St. Louis is indeed a celebration of the best food, art music and culture our great city has to offer. There is something for everyone at the event, as the array of activities and participants continues to grow each year.

Over 20 St. Louis area bands donated their time to help make this event happen! Special thanks to this long list of bands, make sure you get out and support their live music - Lucky Old Sons, Modern Vintage, Big Mike Aguirre & Friends, "UJ" Miller & Scott Neale, Chris Johnson, Andy Hyland, Pik'n Lik'n, 'Bumblebee' Bob Kamoske with Hudson and the Hoo Doo Cats, Barb Soetebier & Howard Young, Carol Davis and Fr. Ron from the House of Bishops, The Sliders with Marty Spikener, Life in the Void, Miss Molly Simms & Eric McSpadden, Following The Water, Blue 66, Rough Grooves, Melissa Neels, and Catfish and the Big Boss blues band! Sound sponsor for the weekend was Mike of Life in the Void, assisted by Brian and Sean of Following the Water!

Besides music for the ears, there was the visual of 'Belly Dance to the Blues' by Christine and Desiree of Aalim Belly Dance, and 'Tango to the Blues' dance by Roxanne and Robert of Convergence Dance, in addition to the book signing by Kevin Belford for his new book - DEVIL AT THE CONFLUENCE :: THE PRE-WAR BLUES MUSIC OF ST LOUIS, MISSOURI

Look for another 'Taste of the Blues' next year at the 2010 Taste of St. Louis, and tell them STLBlues sent you!


Enjoy our image gallery of the 2009 Taste of St. Louis
Click on buttons below, drag the thumbnail panel where you want, and enjoy the show!