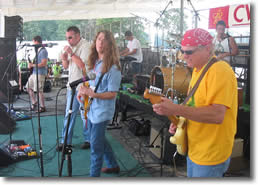 The 8th annual Sparta Blues Fest opened up with the traditional Home Grown Blues Review, always featuring some of Southern Illinois' finest blues musicians. The heat of the day was matched by only by the intensity of the sounds coming off the stage, as festgoers arriving early heard covers of 'Walkin By Myself', 'Wrap It Up', a Fabulous Thunderbirds classic.

Following The Home Grown band to the stage was the Rich McDonough band, just in from playing the night before at the Nothing But The Blues Fest up in Bloomington, Il. Rich is a St. Louis institution, as much a representation of St. Louis Blues music as you'll find! Les Moore adds his silky vocals to the act,
creating a great synergy between these two talents, evident in their cover of 'Little Red Rooster'. Les also brings a N'awlins' flavor to the set, with classics such as 'Iko Iko' and 'Yellow Moon'. Sharon Foehner mixed in her vocal touch on "Walk the Dog', a Rufus Thomas standard, as she added her smooth bass line, and don't forget Joe Pastor keeping a tight backbeat on the drums.

Very unfortunately, due to a death in the family of Duke Tumatoe's bass player, they had to cancel their set. Filling in for them were the 'The Merchandise Tent All-Stars', performing such standards as 'Sweet Home Chicago. Not bad for an emergency musical mission!

Following the 'The Merchandise Tent All-Stars' to the stage was Lew Jetton and 61 South. Lew Jetton, also a meteorologist for WSPD in Paducah, Jetton and 61 South has performed their critically acclaimed "Southern Fried Chicago" style of Blues in clubs and festivals across the Midwest and MidSouth since 1993.

More talent followed in the form of the Chicago Rhythm & Blues Review - the Sparta Fest's 1st year headliner, and Roy Rogers, a world reknowned slide guitarist! We missed these performers, as we were off to the Pageant to cover the 20th anniversary of Butch Wax and the Hollywoods, and their Johnnie Johnson tribute - watch for our review of that in the next few days. Don't miss next year at the Sparta Blues fest, we'll see you there!