Our Fest Report - Jazzfest and the Beale Street Festival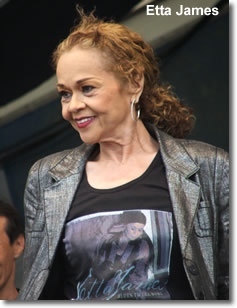 We've been on the road, as we mentioned. After the 1st weekend of Jazzfest, and a week of relief work, it was off to the Beale Street festival. Both fests have their unique appeal. Here's our take!

Jazzfest offers 10 stages, and so many musical genres of music, it's sensory overload taking in all the music, food, sights and sounds! Highlights included the Queen of Chess Records - Etta James, and Allen Toussaint, Bruce Springsteen, Luther Kent, so many others!

The crowds can be overwhelming at times, making a food or drink run a herculean effort, so take it all in stride...after all it is the Big Easy. This year's visit was an eyeopener, seeing the city we love in such a state. The only thing that can help this city of such culture survive is YOU! Help any way you can, just help - it's so very needed.



The Beale Street music festival proved once again just that Memphis is a home of the Blues!

Differing from Jazzfest in scale - 4 stages - and size, this event is help annually in Tom Lee park along the Mighty Mississippi. A short walk takes you from the fest up to Beale Street, so there's plenty of good music, and of course that incredible BBQ!

Highlights this year included DuWayne Burnside, John Lee Hooker Jr., B.B. King, Rod & Honey Piazza, Janiva Magness, and many more.

Just a short trip down the road from St. Louis makes this an easy weekend event, so be sure and include it on your fest agenda. Better yet, make a vacation of it, and try out the Jazzfest - Memphis fest run....you'll be glad you did!