By Big Dave, with photo help from Ravenlight Studios
This years music
- Mosby Group
- The SteamRollers
- Pfeffer Trio Featuring Debby Lennon
- Soulard Blues Band
- Marquise Knox Blues Band
- Anita Rosamond
- Webster University Faculty Jazz Band
- Webster Groves High School Jazz Band
- Gumbohead with Special Guest The Funky Butt Brass Band
- Erin Bode Group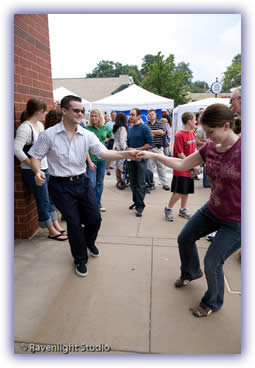 The Old Webster Jazz and Blues Festival played to a packed crowd this last Saturday, Sept. 20th! As the skies cleared, more and more music seekers poured onto the streets of Webster Groves for this event, a jewel in the crown of St. Louis music events.

This year the free, award-winning, family jazz and blues fest celebrated the music and culture of Louisiana. Like the state's signature dish, gumbo, this year's festival offered a spicy stew of diverse ingredients from the Big Easy, and the soulful holler of the blues that was first sung in the Mississippi Delta.

As fitting a N'awlins tribute, the Funky Butt Brass band led a second-line down the street, with lots of exuberant fans joining in. Led by Mrs. Frances Johnson, this moved everyone in the crowd to do a little second line of their own! GUMBOHEAD closed the evening as only they can do! GUMBOHEAD is a collective of rhythmic rapscallions and tuneful tricknologists who find great joy playing music born in and influenced by New Orleans and southwest Louisiana.

Lots of hard work made this event a success, from the staff at the OWJBF, and the outstanding bands and fans that keep the music alive. Make sure you add the 2009 Old Webster Jazz and Blues Festival to your 'must-do' festival planning, and tell them STLBlues sent you! In the meantime, enjoy our photo gallery below, and our Live Music Calendar!