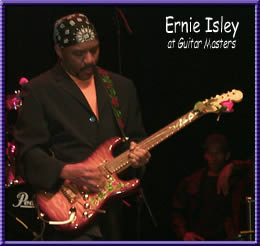 One of the longest running acts in Rock and Roll history, The Isley Brothers have been around, in one form or another, for about a half century. A surprise guest at the recent Guitar Masters, Ernie has been playing around town, and STLBlues caught his act at BB's. Ernie spent a few minutes with STLBlues recently, here's his story!
STLBlues:
Where are you from?
Ernie:
I was born in Lincoln Heights (Cincinatti, Ohio) in 1952 into a musical family, the 5th of 6 boys
STLBlues:
When did you begin performing?
Ernie:
My first performances were in church
STLBlues:
Tell us a little about your musical history
Ernie:
My father died one week before release of "Shout", one of our of our first hits, but he was watching from a cloud. Jimi Hendix - we bought him his 1st Stratocaster, and he did his first recording with the Isley Bros, "Testify 1 & 2". He was with the band from 1963-1965, and lived at our house, before the 1967 Monterey Pop Festival. I bought my 1st guitar in 1968. On the 1969 Issue of Fame, I played bass. On the 3 by 3 album "Whos that lady", our 1972 hit. Stevie Wonder recorded by day, and the Isleys recorded by night. When Paul McCartney was interviewed for his latest tour, he said "the Isley Bros are the musical connoisseurs"!
STLBLues:
What are some memorable music moments you've had?

Ernie:
One that stands out was in 1992, when the Isley Bros. were inducted into the Rock & Roll Hall of Fame. Little Richard made our intro speech! Yahn Warner - Editor of Rolling Stone magazine - was one of the speakers, and said 'The Isley Brothers have enjoyed a long and successful career, with Shout in 1959, and Twist & Shout in 1962, more than enough to get them into the Rock & Roll Hall of Fame! No Billboard Artist has been on the charts more since the 50's".
When we were going to visit the Rock and Roll museum, I called ahead and said "we have a show in town tonight, and we'd like to come by and see the museum. I spoke to a woman, Sharon, and she excitedly said "when will you by"? I said "in 10 mins". Sharon said "can you give me 15"? When we arrived, she gave us a personally guided tour, it was great!