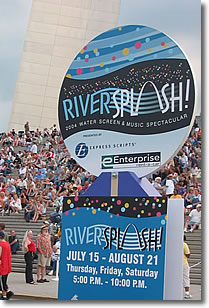 The St. Louis Riverfront has played host to many events over the years, but few that celebrate our River City heritage as well as the newest event known as River Splash.

A variety of 18 musical acts are performing throughout this extravaganza of sights and sounds, as a fabulous music schedule is followed each night by a laser water show and a fireworks display.

The Mighty, Mighty Neville Brothers, a musical icon in the Big Easy, brought all their New Orleans flavor to a crowd that filled the steps of the Gateway Arch to overflowing.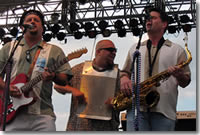 Opening up for the Nevilles was St. Louis' own Gumbohead, a "psychically connected group of musicians, raconteurs and tricknologists dedicated to the presentation and preservation of red-hot Louisiana dance music". From the moment they opened up with 'Hot Tamale Baby', Gumbohead began spreading their own style of second-line fever throughout the crowd. Following Gumbohead were the brothers Neville - Aaron, Art, Charles and Cyril, and Aaron's son Ivan - famous in his own right, having done studio work with the Rolling Stones, Bonnie Raitt, and many others.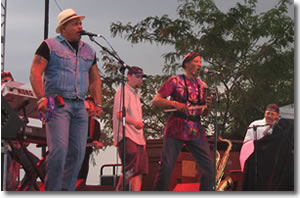 This superband epitomizes the R&B legacy of Louisiana, and have created a worldwide fanbase since they began their string of successful albums in 1977, beginning on Capitol and moving to A&M. The high point came in 1989 with "Yellow Moon", written and sung by Aaron, whose solo career was revived in 1991 with Warm Your Heart, the acclaimed album produced by George Massenburg and Linda Ronstadt.

Opening their act with Fire on the Bayou, the hits continued with - naturally - Yellow Moon, Tell It Like It Is, and closed with Aarons intricate yet powerful delivery of Amazing Grace. A spectacular night of music, and the musical adventure known as River Splash continues - see our schedule!

All this entertainment is free, brought to you by Celebrate 2004! Our photo gallery of River Splash is below, but it's so much better live!