Recently Chubby Carrier visited St. Louis, playing at the Off Broadway club. From Lafayette, LA, Chubby brought his unique Zydeco sound to his loyal St. Louis following, exhorting them to "get on down to Louisiana, and have a real good time"......

An enthusiastic washboard player had the crowd participating, bringing fans onstage for thier turn with the spoons! Zydeco, if you're not familar, is a very contagious party sound.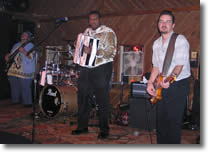 Most people find themselves unable to resist its beat, and end up irresistibly drawn to the dance floor to move to the music a bit, and this evening was no different!

As they launcehd into thier trademark song "Who stole the hot sauce", a bottle of this fiery stuff appeared in the hands of the rubboard player, who then proceeded to dish out shots to whomever had a craving...which was quite a crowd!


It became sort of a Zydeco limbo session, as revelers danced under the bottle for a taste of this cajun treat. Quite entertaining as a spectator sport!

And of course, Chubby chose to end the set with a tribute to the 'King of the Zydeco', Clifton Chenier. A great show, as high energy as a performance can get. Never fail to catch the Zydeco magic that is Chubby Carrier!

Laissez Les Bon Temps Roule!