Taste of St. Louis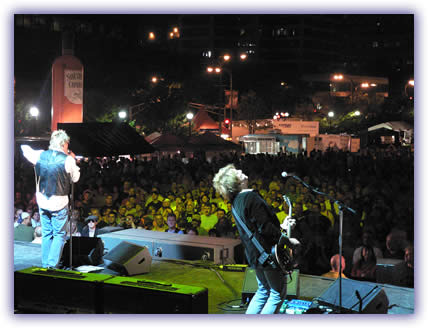 What happens when you combine 30 of St. Louis finest restuarants, a live Iron-Chef competition, Family Sports Zone, local and national music acts, the Marketplace, ArtDimensions Village, all to a backdrop of sunshine and blues skies?

You create one of the best events St. Louis offers, called the Taste of St. Louis, and draw a record crowd of 200,000 fun seekers! Highlights are numerous, as the combination of sights, sounds and tastes guarantees an incredible sensory experience! Nostalgia rock this year was covered in the form of Bad Company, and of course the N'awlins funk of the Radiators gave everyone a reason to 'second line'! Puddle of Mudd, Bowling for Soup, and the SoCo band competition kept the music coming all weekend!

Long dormant, the Taste has risen to the forefront of St. Louis events under the guidance the Taste staff - Davide Weaver, Mike Kociela, K Sonderegger, Rebecca Brooks, and the rest of the Taste staffers. Thanks also goes out to Ann Chance and the City of St. Louis for embracing this event, and the culture it showcases! STLBlues wants to thank everyone who stopped by our booth, especially Lara and Theresa. We'll see you where the music is!!