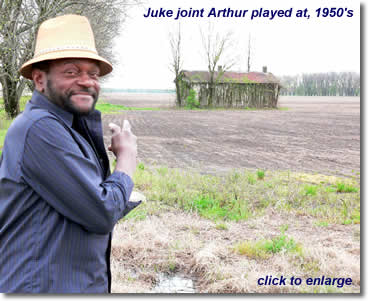 As a blues lover, tracing the roots of the blues has always drawn thousands south to the Delta. The town of Clarksdale, Ms., the places such as Red's, and the Hopson Plantation, all add up to create the 'true delta' flavor you just can't read about, you have to experience at least once in your life.
An annual event that draws thousands to Clarksdale is the
Juke Joint Festival
. This event celebrates the richness of the local music talent, yet brings in artists from all over. It's not unusual to see spontaneous musical magic happening around town, for example
Watermelon Slim
strolling into Red's - a legendary Clarksdale juke joint - and just tearing the house down.
STLBlues had the doubly good fortune of going down to Clarksdale, and being the driver for Arthur Williams, a St. Louis musical icon, and a master of the Chicago harmonica sound. The journey instantly turned into a living blues history lesson, with Arthur as my guide.

As the trip unfolded, the need to chronicle this story became obvious. Our road trip took us through Memphis, where coincidentally the Memphis community radio WEVL 89.9 fm (a fantastic station) began playing a track from a Frank Frost album called 'Harpin on it', which featured on harp, you guessed it, Mr. Arthur Williams!

Interspersed in this story are excerpts drawn from the handwritten notes of Arthur's mother, rich in detail of Arthur's life.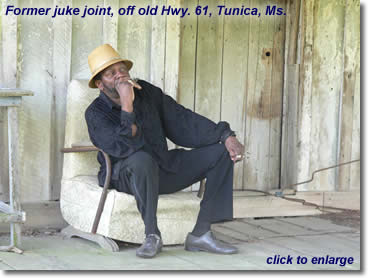 There were numerous stops along the way, on both new and old Hwy. 61, as Arthur retraced his past - several old, long abandoned juke joints, sitting desolate among the towns where Arthur played 50 years ago, a visit with Sam Carr, endless anecdotes of his times with Honeyboy Edwards, Big Jack Johnson, and so many other stories.
Arthur is one of the few remaining 'authentic' bluesmen, with a background rich in the roots of the Delta, overlapping with his youth in Chicago. Arthur was born in Tunica, Ms. on July 8th, 1937, on the Coke and Stone plantation, where his dad drove a tractor on the plantation. As so often was the case, lean times and the prospects up North led to a family move to Argo, Il. in Nov. of 1939, when he was only 2 years of age, and then onto Chicago when he was 12. He continued to spend his summers in Tunica
.

"Arthur never liked the city, he loved hunting, fishing, and living in the country. He was always good at putting things together, such as machines. In school he was very smart, and had all kinds of awards and achievements in spelling, art, and his focus in high school was commercial art. When he was 17, he seemed to lose interest in school, and decided he wanted to move back to Mississippi."
Arthur attended Dunbar High School in Chicago until his senior year, when he went back to Tunica to live with his grandparents. It was there that Arthur became lifelong friends with Frank Frost, and they played around the Tunica / Clarksdale area during the 1950's.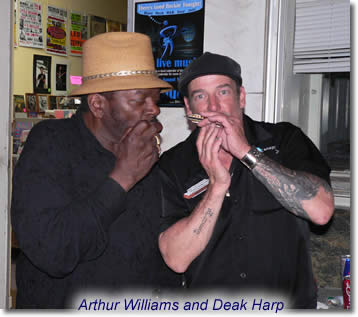 "Arthur began playing the harmonica ever since he was 5 or 6, and he got to be real good at it. Arthur was a good boy; I never had any problems with him. He was a very cute and handsome little boy. He was crazy about his blue jean pants; he always had from 5 or 6 pairs. He was always real neat and clean, and all the girls liked him. He was real fond of Norman, his stepfather, and Ollie, his real daddy. Ollie was very good at blowin' the harp.

When Arthur was 19 years old, he began working at the Palmer House in Chicago. He'd take his harp, and started blowing it out in the hallway. He had all of the young people and some of the older ones dancing and listening. Most of them had stopped working to listen, and Arthur got fired for stopping the workers!

The next thing I knew was my son was inducted into the Army. He went to Fort Hood in Texas, and he was stationed somewhere in Michigan, where he finished his education, and became a cook. He ended up playing with B.B. King, and Muddy Waters. He is now playing in a movie with Mr. Danny Glover!"

-------------------------------------

From the official website, here's a short synopsis on 'The Honeydripper', with Arthur appearing as the character 'Metalmouth Sims'......a harp player. The Honeydripper is John Sayles 16th feature film. Arthur's best memory of the experience was his jammin' with Keb Mo and Gary Clark Jr. at a crawfish boil, and the cast party that honored him.

"It's 1950 and it's a make or break weekend for Tyrone Purvis (Danny Glover), the proprietor of the Honeydripper Lounge. Deep in debt, Tyrone is desperate to bring back the crowds that used to come to his place. He decides to lay off his long-time blues singer Bertha Mae, and announces that he's hired a famous guitar player, Guitar Sam, for a one night only gig in order to save the club. Into town drifts Sonny Blake, a young man with nothing to his name but big dreams and the guitar case in his hand.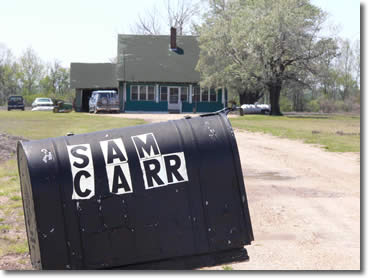 Rejected by Tyrone when he applies to play at the Honeydripper, he is intercepted by the corrupt local Sheriff, arrested for vagrancy and rented out as an unpaid cotton picker to the highest bidder. But when Tyrone's ace-in-the-hole fails to materialize at the train station, his desperation leads him back to Sonny and the strange, wire-dangling object in his guitar case. The Honeydripper lounge is all set to play its part in rock n' roll history.

-------------------------------------
Our route led us to Sam Carr's home, off Old Highway 61. Arthur wanted to grab a visit with his old friend. Sam now lives a simple country life, and although his walls are lined by numerous music awards and recognitions, he "feels like they forget about me anymore. I used to roll all the time, sleep only 2 hours a night. I'm 87 now, and can't do that anymore".

Arthur and Sam reminisced about their times in the area, playing the jukes and house parties, and their friendship with Frank Frost. Visiting with Sam was a experience that is best described as a 'deep blues' moment. The former firefighter in me made me remove the robe that was lying against his blazing space heater, and worry about his future safety - at 87 years old, Sam is the caregiver for his wife Doris, who is bedridden. After saying farewell to Sam, we made our way into Clarksdale.

The Juke Joint Festival was in full swing! Music was in every club, restaurant, and on the sidewalks, with Deak Harp jammin all day in front of Bluessource.com, with Honeyboy on the main stage, Super Chikan over at Ground Zero, and Arthur sitting in with the Mississippi Marvel. Then the journey continued on to the Hopson Plantation to end the evening! Haven't been to Clarksdale? It's blues history, and you'll never forget it!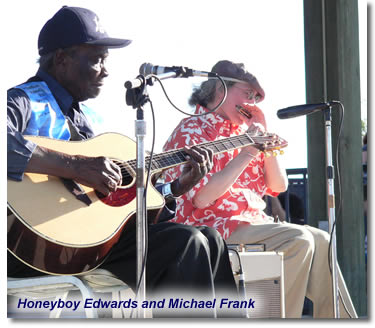 Stops you must make - The Riverside Hotel and 'Rat', the Delta Blues Museum, Ground Zero Blues Club, Red's Juke Joint, The Depot Blues Club, Sarah's Kitchen, Cat Head, Abe's BBQ, the list goes on and on. The Crossroads sign at the intersection of Hwys 49 and 61 is always a good kodak moment, and no, it's not the true crossroads, but the turista's sure love it!

Betsie Brown of Blind Raccoon (music promotion, media relations & marketing communications) was on the scene, working with Honeyboy Edwards, and of course the gang from the Blues Foundation drove down from Memphis for the day. As a Blues Highway travel adventure, just point yourself south from Memphis on Hwy. 61, past the casinos of Tunica, and you're there.

It's a world class Blues adventure. Make it your own journey, or hook up with someone like Amanda and the Delta Music Experience, and let her be your guide! Either way, it's a spectacular way to experience the roots of this art form we call the Blues.

Dave Beardsley, founder - STLBlues.net

Thanks to our host for lodging, Arthur's cousin Lee 'Mad Dog' Earl Boyd, 1/2 of the wrestling duo the 'Bruise Brothers' in Tunica, Ms.