The Big Muddy Festival 2000 Pictorial Review
---
Once again St. Louis has shown it's a world class music town. Over 30 acts filled Laclede's Landing over the Labor Day weekend. The music was just as hot as the weather, and in case you missed it, or simply want to relive this incredible music event, we hope you enjoy this review!

---

Johnnie Johnson & Kelly Hunt
are always a great pairing.
Kelly let the crowd know "I love you St. Louis", and then
sang about how "if I don't dance, I will go crazy".
---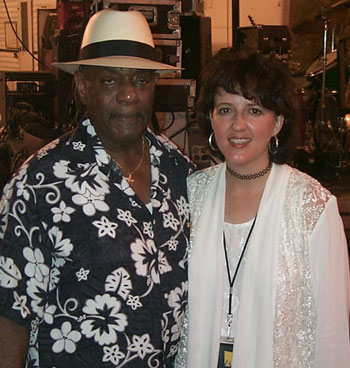 Johnnie and Kelly
are good friends offstage as well.
Did you know that Kelly wrote and performed a special song for
Johnnie's birthday? If you ever get the chance to see them perform
together on dueling Stienways at the Sheldon Theatre, don't you dare miss it!
---

Alvin Jett and Hired Help

Alvin and his golden voice can be heard
just about any weekend down in
Soulard
---

Bennie Smith,
a local treasure, working the crowd into a frenzy.
Bennie has performed with artists like Chuck Berry and Ike Turner.
If you missed him, you can always catch him down in
Soulard
.
For more on this talented artist, read his
interview
.
---

Patti Thomas and The Hitmen
working the crowd at the 3rd and Morgan stage. Patti, (a former ER nurse) answered her blues calling years ago as the vocalist for Doc Terry and the Pirates, before recruiting the Hitmen and forming her own band.
---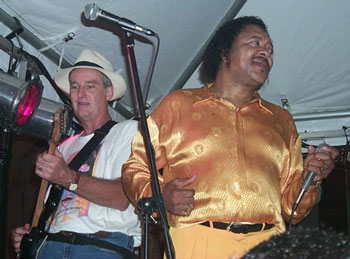 Larry Griffin and BooBoo Davis
giving the festgoers
some of what they came after, Blues St. Louis style!
Both are longtime staples of the St. Louis Blues music scene
---
A real crowd pleaser!
Tommy Bankhead
....a legendary name
synonymous with St. Louis Blues music. Mr. Bankhead has a history
that reads like a Blues " Who's Who", beginning with his
early days playing with Woodrow Adams and the 3 B's,
Joe Hill Louis, Howlin' Wolf, Sonny Boy Williamson,
Elmore James, and of course,
our local Blues Patriarch
Henry Townsend
---


Willie Johnson
, gifted with a voice made to sing the blues
---
John Mayall
, a living Blues Legend, entertaining the crowd
at the 1st and Lucas stage. John and his band The Bluesbreakers
are a legendary band, and have been an inspiration for
countless Blue musicians over the year
s

---
Thanks goes out to Tom Purcell, Jeanette Bennett Schenk, John May, Pat Hagin, and all the staff & volunteers that helped create this wonderful musical event. And of course, special thanks to all the Blues musicians and fans. You truly make St. Louis an incredible Blues town!