By Miss Vickie
How much more can I RAVE about the Blues City Deli!!! What a great place to listen to music, drink good beer, and eat great sandwiches. Which is why we had Lee's 43rd birthday party on Saturday March 1st. We were especially excited about this date, because Los Carnales was playing and they brought in two VERY SPECIAL GUESTS!! Dave Herrero and Felix Reyes...(some know Felix as Uncle Fe) The place was crowed as always and the band was hard pressed to get them all on stage, but they fit and they ROCKED THE HOUSE, BABY!! Now I had my birthday party at the BCD on November 5th of last year. I had the pleasure of listening to Deak Harp and Rev. Robert. THAT ROCKED too!! How can you miss at the BCD for great music...professional artists....ambiance Baby...ambiance!!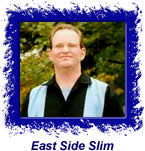 AKA Lee
On Lee's birthday, there were many of our friends and many "regulars" to help us celebrate. Now..I know Birthday #43 is no big deal...especially to Lee. He was rather taken aback by the turn out. But when I put out the word...I put out the word!!! How can you not want to go hang out at the Blues City Deli on a Saturday afternoon from 1:00 pm to 3:30 pm and JAM! Besides..Los Carnales was playing...And they brought in some guests. Always fun with those guys and Even More Fun with guests,. Los Carnales has a great many music friends and fans and they ALL come out to see them play...I mean see them ROCK, BABY!! The band and their guests played Hammerstones on Thursday..BB's Jazz Blues and Soups on Friday, Blues City Deli on Saturday afternoon, and then after a well deserved nap (laugh), they played again at Hammerstones that night. WOW!! How much fun do you think they had? I know Felix and Dave were just beside themselves at the enthusiasm that the fans brought to the gigs. Where else, BUT St. Louis can you get such warm receptions and feel the Love for the artists and their music. I spoke to both Felix and Dave after their gig at BCD, and they were just amazed and elated! They Both expressed how much they want to come back to St. Louis and play again. I feel the same way...COME ON BACK and PLAY!! These guys were Great!! and very friendly and down to earth people, just like the guys in Los Carnales...Derek (Litl D), Paul, Alex, and Preston. They really know how to put on a great show! The house was rockin' that day and the beer was flowin'! Vinne was VERY HAPPY! (big smile)
For those who may have missed any one of the shows these guys put on...let me tell you a little bit about their guests.
Dave Herrero comes to us from Florida, where he started playing professionally at the age of 20. Now, I'm going to be 50 this year, so to me, he still looks 20! (big laugh) He's a smart guy! Has a degree in Psych through the U. of N. Fla. WOW! Could be why he gets along with some many different people. (ha ha) Dave moved to Austin and played with Archie Bell and the Drells and went overseas with the USO tour in Hungary, Bosnia, and Macedonia. WOW! I know those troops were excited to hear this guy when he plays his guitar. He burns it up, Baby! In 2004, he moved to Chicago to join his brother and form TrackForce Productions, LLC. The Chicago community knows these guys as The Hero Brothers and they are producing music for Harpo Productions. Dave is influenced by Muddy Waters, Albert King, and the Fabulous Thunderbirds. You can here all of these influences in his music. He's a star and has many more years to go with his talent! YOU GO, Dave! (big smile) I was very happy to see that he brought some cd's with him to the gig at BCD. Of, course we all bought one and that helped him get his travel money to get back home! (big laugh) Oh, by the way, I just saw the T-Birds at the VooDoo Lounge at Harrah's Casino. Kim Wilson is STILL one of the best singer/harp players around and the new band he has is young, but definitely Texas Rock material. They were Great! (of course allowing for the horrible sound at the venue). But I digress. (ha ha)
Felix Reyes (Uncle Fe) is a Dallas native. He now lives in Chicago and plays with The Hero Brothers. Now Felix is a little older than 20, and he's been on the scene since the '80's. Back then, he founded a band called "The Weebads" (info for those who like to do research). He played with harp legend, Memo Gonzales. They played some really great Texas Blues. How can you go wrong with that? After that stint, Felix moved to Atlanta, Ga. and founded Felix and The Cats. This band won him many awards and they even played the Olympics and BB Kings Bday party in 1995. WOW! Now that he's settled in Chicago, Felix works from home writing songs and making music, such as producing music for Oprah Winfrey show and some independent films. ( I like the films part...don't care for Oprah much!)

You have to check out his web site for all of the GREATS he has played with to date. This guy is FANTASTIC! Both he and Dave Herrero have great singing talent and TEAR IT UP on the guitar!
Now let me RAVE a little about Los Carnales. They came to us from Shakey Ground Band and have not stopped making great music since. They play around town at Hammerstone's on Thursdays and Saturdays and occasionally at BB's Jazz Blues and Soups. Dennis, John May, and Vinnie LOVE these guys and for good reason. They ROCK THE HOUSE BABY!!

If you have any chance at all to check these guys out, I HIGHLY recommend you do so. And to my friends, Los Carnales...please continue to bring in the very special guests! You know so many great talents and we are so very lucky to have you here in St. Louis!
Happy Birthday, again to my friend, Lee! And thanks to Vinnie for bringing us the Blues City Deli. What a great place to hang out and enjoy the music, food, and friends! Don't miss the NEW HAPPY HOUR he has on Thursdays from 4:00 pm to 8:00 pm. Beer and sandwich specials and music by Ryan of the Rum Drum Ramblers and guests. ALL musicians are welcome and encouraged to come and sit in with Ryan on stage. I love this idea! It really makes the night very interesting and fun so see so many different artists get together and Jam!
Please check out these web sites:

www.bluescitydeli.com
www.bbsjazzbluessoups.com
www.hammerstones.net
www.loscarnalesmusic.com
www.myspace.com/daveherrero
www.myspace.com/felixandthecats
Thank You all for reading and Thank the musicians for the MUSIC!! I LOVE IT!!
-- back to top --