By Big Dave
1/25/10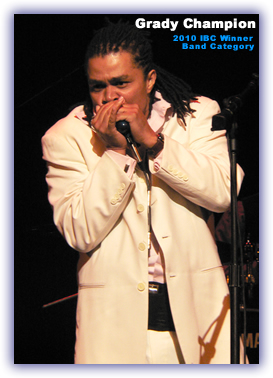 The Blues Foundation's 26th International Blues Challenge concluded Saturday with two packed shows at the Orpheum Theatre.

It was the ending of 2 full days of semi-finals that filled the clubs of Beale St. Once again STLBlues was honored to judge in this prestigous event at the Old Daisy, a great music room down at the foot of Beale. Several of my favorite bands of the evening, The Sugar Thieves, and Southside Cindy and the Sliptones, failed to make the finals, a testament to the world class level of competition of the IBC.
The solo/duo winner was Matt Andersen, sponsored by Harvest Jazz and Blues from Fredericton, New Brunswick, Canada and second place honors went to Alphonso Sanders and Bill "Howl-n-Madd" Perry from Mississippi's Crossroads Blues Society, Rosedale, Mississippi.


The top prize in the Band competition was awarded to Grady Champion of the Mississippi Delta Blues Society of Indianola. Second place honors were earned by Karen Lovely Band, Cascade Blues Association, and the third spot went to Cheryl Renee with Them Bones, hailing from the Cincy Blues Society.
A beautiful blue custom Gibson guitar featuring The Blues Foundation's logo was awarded to Matt Kelly of the Big Boy Little Band (DC Blues Society), as the finals top guitarist.
In the Best Self-Produced CD contest, the judges determined that two CDs were the best: Fire It Up! by the Laurie Morvan Band and Crime Scene Queen by The Informants. Laurie Morvan Band's "Fire It Up!" was the Santa Clarita Valley Blues Society's entry this year in the CD competition. The Laurie Morvan Band also represented the Santa Clarita Valley Blues Society in 2008 as a Band entry and a CD entry and both ended up in the Finals for that year. Crime Scene Queen by The Informants was the Colorado Blues Society entry for this year.
The other solo duo finalists were: Becky Boyd & Tim Matson (Cleveland Blues Society); Jimi Lee with PB Shane (Austin Blues Society); Sherman Lee Dillon (Central Mississippi Blues Society); Tom Walbank & Arthur Migliazza (Southern Arizona Blues Heritage Foundation); Ken "The Rocket" Korb (Long Island Blues Society); and Steve Cohen (Grafton Blues Association).
The other Band finalists were: Mojo Theory (Pomeroy Blues & Jazz Society); R&K Brew Co (West Virginia Blues Society); Big Boy Little Band (DC Blues Society); Sonny Moorman Group (Columbus Blues Alliance); Jesse Greene Band (Ottawa Blues Society); Jackie Scott & the Housewreckers (Baltimore Blues Society); Labron Lazenby and LA 3 (Smoky Mountain Blues Society); and The Avey Brothers (Iowa Blues Societies).
Blues societies all over the world will soon be starting all over again as they begin their own competitions to determine who they will send to the 27th International Blues Challenge, the finals of which will be staged February 5, 2011.