The 2009 Soulard Mardi Gras
It's almost over, the largest party St. Louis throws, known as the Soulard Mardi Gras! The events that make up one of the largest Mardi Gras celebrations in the country are long, here's our 'short list'!

Toast of Soulard Wine Taste, Cajun Cook Off, Taste of Soulard, Barkus Pet Parade, Wiener Dog Derby, Fat Tuesday, and of course, the Grand Parade.

The theme for the 2009 Soulard Mardi Gras Grand Parade was "Soulard Mardi Gras celebrates the History of the World!" So it's no surprise to see King Tut pulling a float down Broadway, to the delight of the crowd on hand!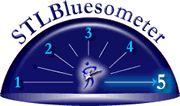 Over 100 floats made this a spectactular event, as 150,000 to 200,000 revelers came out to line the parade route. As the parade ends, the historic neighborhood

of Soulard

fills and becomes one big street party, filling the bars, tents, and house parties, and continues well into the evening!

There's still one event left, the Fat Tuesday 'light up the night' parade. Don't miss it! Learn more here at MardiGrasinc, and enjoy our Grand Parade gallery below!
Click on buttons below, drag the thumbnail panel where you want, and enjoy the show!