By East Side Slim, 5/16/2010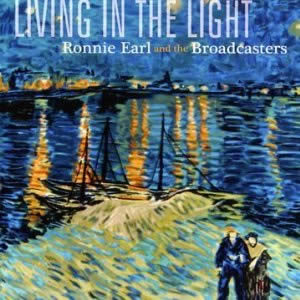 Ronnie Earl and the Broadcasters – Living In The Light – Stony Plain, 2009
Mr. Earl was born Ronald Horvath in Queens, New York in 1953. He didn't grow up playing guitar, but instead took up the instrument after entering college on Long Island upon the end of his high school years. By his 3rd year in college he was a serious student of the guitar and was practicing for hours every day (this was after transferring to Boston College.) He was skilled enough by that time to play with local blues elite and with touring blues players of the caliber of Muddy Waters, which ties in to how Ronnie took the last name of Earl. While Ronnie was playing with Waters, Muddy couldn't remember Earl's name when calling him up on stage to play. So, Ronnie changed his name to Earl as a tribute to blues guitar maestro Earl Hooker.

Ronnie has often blurred the boundaries between blues and jazz, as well as including soul and rock influences in his playing, too. But as far as blues is concerned, Ronnie has this to say, "My greatest love in music is the blues; this is my 'mother music.' And I dig deep — I have no choice; playing, for me, is a very emotional experience. I put every particle of my soul into it.
In 1979, Earl was invited fill the shoes of Duke Robillard in Roomful of Blues. During his time with Roomful he released several recordings on his own for Black Top Records. He also served as a bit of a "house" guitar player for Black Top for much of the 1980s. As Ronnie's tenure with Roomful of Blues lengthened, he found he was writing more music than was able to be played with such a large group. After 8 years with the band he decided to leave Roomful in order to begin a solo career so that he could express the music of his own voice.

In 1988 Ronnie formed his own band – and with that The Broadcasters were born. The band is named after the first Fender guitar which originally had been labeled The Broadcaster and was distributed in 1950. With the release of Still River in 1993, the Broadcasters became the first completely all instrumental blues group. As for defining his style, he can't. "I'm just trying to get into peoples' souls," he says. "I'm just trying to reach peoples' humanity."

As Earl states, "I see my music as a way to have a deeper relationship with God, and bring healing and love to the people who listen to it. To all my friends throughout the world, I thank you deeply from my heart for all your love and all the prayers that you have shown me. Due to God's miracle and grace, I am free from my depression. I love all of you and may God bless and keep you!" In the title of the CD, Living in The Light, "light" refers to God's love.

Earl is thought of as a somewhat reclusive artist, one who rarely tours. As to why he doesn't tour anymore, Ronnie has this to say, "I did that (touring) for more than 25 years," he says, "and nothing is better than one's own home and one's own family and friends. It makes me feel grounded. I have a wonderful wife, I'm close to our church, I live in the country and I want to be in my own home, every day." It sounds to East Side Slim that Mr. Earl has found the secret to happiness, or at least to his own happiness. I'm thinking we could all learn something from him.

Before we move on to the songs, some short notes about the lineup of musicians on this CD. The current group of Broadcasters, amazing players each and every one, are: Jimmy Mouradian (bass), Dave Limina (organ), and Lorne Entress (drums, as well as producing the CD.) They began playing as Broadcasters prior to the 2003 release of I Feel Like Going On. As if that lineup isn't good enough, and it is good, Earl brought in a few guests/friends, including: Kim Wilson on harp and vocals, Dave Keller on vocals, David Maxwell, Rod Carey and Jason James.
(Great thanks to Ronnie Earl's website and to the Stony Plain website for much of the above biographical information)
The Songs: (all songs by Ronnie Earl unless specified otherwise; ** denotes songs with vocals)
1. Love Love Love** (vocal by Dave Keller)
--This up-tempo blues-rocker opens Living In The Light. I really dig the verses, but the chorus construction seems to hold the song back a little. The lyric content isn't an issue at all, as Ronnie is one of the most spiritual musicians you'll find anywhere, and this song extols God's love for each of us, and how He wants us to love Him as well as each other.
2. S.O.S.
--This is a long one, clocking in at 9 minutes. It's a classic Earl slow-burner, built on amazing dynamics – as well as on a deep organ bed courtesy of Dave Lumina and on Earl's own almost mystical guitar skills. When you're talking about soulful guitarists, Ronnie pretty much tops the list as he puts his entire essence into these long instrumental tracks.
3. Take A Little Walk With Me** – (Robert Jr. Lockwood; vocal by Kim Wilson)
--On this acoustic, back-porch styled performance Kim Wilson steps up on vocals and harp, with Ronnie playing acoustic guitar. Additionally, the great David Maxwell is tinkling the ivories here. While this song is quite a stylistic jump from S.O.S., it's a very nice change of pace and sounds great. You have to love the studio snippet left on the end of this track, as it says it all - "it never works out thinkin' and playin', it never works out". Well, these guys just play; no thinkin' needed to spoil this great music.

4. River Charles Blues
--This is a hot instrumental shuffle with heavy organ and loads of Ronnie Earl channeling that amazing Dallas guitar sound. The name of the tune is a tribute to the name of the river that flows through Earl's hometown of Boston. This cut is so hot it's cool!

5. What Can I Do For You** – (Bob Dylan; vocal by Dave Keller)
--This slow, spiritual blues – it's essentially a gospel song – while written by Bob Dylan speaks to Ronnie Earl's own heart as he has faced (and beaten down) his own demons over the years. Ronnie's struggles are well documented so I won't go into them. The lyric of this song speaks to how each of us has been blessed by God and it's our choice how we use (or misuse) those blessings. Ultimately we should each realize where those blessings came from in the first place and should live our lives in appreciation of those blessings (thankful to God), rather than throwing them away or allowing ourselves to waste away.

6. Recovery Blues
--This instrumental track follows the theme set forth in the previous track. It "speaks" directly to Earl's battles and struggles during his recovery efforts. The tune is a slow blues, built on amazing organ work and Ronnie's incredibly soulful dynamics. He is a master at controlling a song emotionally through the use of dynamics and tone. This is a stunning track.

7. Blues For Fathead
--We've got a shuffling cut here, a little on the jazzy side with the organ swinging and with Ronnie working a cool Kenny Burrell-styled thing. This is actually one of the shortest songs on the CD at 3:40 in length, but East Side Slim could listen to this sort of thing all day long – nice!

8. Child of a Survivor** – (Ronnie Earl and Deborah Blanchard; vocal by Kim Wilson)
--This is a long one, folks – 9 ½ minutes long. The lyric isn't your typical party-hearty blues fare, either (Ronnie's work rarely is). The song is about the suffering and near-annihilation of Europe's Jews as a result of Nazi Germany's atrocities during World War II. The song is a deep, deep blues, and Kim Wilson's renowned harp skills are featured here. The sung verses of the song can become a bit overwrought (while heartfelt) but the instrumental passages are things of beauty. The tune was written by Earl, who is Jewish, and by the pastor of his Baptist church.
9. Blues for the South Side
--This track is a paean to the heavy electric blues of Chicago's south side. Just try to keep from moving around while this song plays out. It's another one that ends much too soon.
10. Ain't Nobody's Business – (Porter Grainger & Everett Robbins)
--I've heard many versions of this classic song over the years (and enjoyed most every one of them – it's a "singer's" song) but this may be the 1st time I've heard it as an instrumental cut. While the lyric to this song is in reality very important to the tune due to the emotional content of said lyric, Ronnie's guitar playing here is so emotive, so lyrical in its design and execution, that this instrumental version of Ain't Nobody's Business works…man, does it work!
11. Donna Lee** – (Ronnie Earl and Deborah Blanchard; vocals by Kim Wilson)
--The liner notes credit Kim Wilson with the vocal on this track, but if it is Kim he is singing in a "voice" barely recognizable as himself. It almost sounds as if Ronnie is actually singing here. Wilson is playing acoustic harp along with Ronnie's acoustic guitar in a definite back porch style, so it probably is Kim singing, using a flattened, older-fashioned delivery. By the way, this track is a love song from Ronnie to his wife, and to the positive effect she's had on his life. When a man is fortunate enough to eventually find "that girl" he knows he's been blessed.
12. Pastorale
--This set closing track is a mellow, jazz fusion by way of Stevie Ray type tune, and it's beautiful. For those of you who don't remember, Stevie didn't always play 100 mph (if you doubt me, go back and check his records – the man performed some beautiful, introspective songs, too).

The Verdict:
Living In The Light is another fine, predominately instrumental album in a long line of such fine albums that Ronnie Earl has released since he went "instrumental" in the early-1990s. As stated in some of the individual song notes in this review, Earl is such a lyrical and dynamic player that vocals are hardly missed much of the time. But when a singer is warranted, Ronnie knows which people to hire-on: Kim Wilson's skills are well known, and Dave Keller turns in some really nice work on this CD. His fine work and exposure here should help to gain him a greater following with his own music.

I've never considered Ronnie Earl a gunslinger as far as his playing style is concerned, and that is the case on this album as well. You'll note that he continues to credit The Broadcasters on his releases, and that's because his CDs are very much band efforts. Each musician plays a part in the formation of the music, each painting with a different color, so to speak. Ronnie certainly has the chops to completely dominate musically, but he wisely chooses to play to the songs. The man is a marvel, and we should all be thankful that he chooses to share his life and spirit with us though his music. If only he would do the occasional tour… OK, its time to rate this bad boy. East Side Slim is handing out an STLBluesometer rating of 4.00 to Ronnie Earl's Living In The Light.
For more information concerning Ronnie Earl, please visit the following websites:
Ronnie Earl:
http://www.ronnieearl.com
http://www.stonyplainrecords.com/Web/artist.asp?id=347

Lee Howland - aka "East Side Slim"