OLD SKOOL - By Boo Boo Davis
By Michael Higgins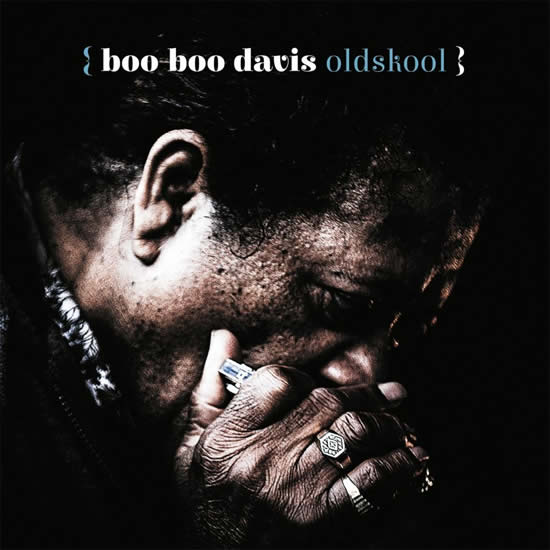 James 'Boo Boo" Davis truly is one of a kind. Born and bred in Drew, Mississippi, he's spent the past 60- plus years dripping nothing but the blues. His father, Sylvester Davis, was a cotton farmer who played multiple instruments.

Musically gifted, he performed with legends such as John Lee Hooker, Elmore James and Robert Pete Williams. The younger Boo just soaked it all in. By five he was playing harp and singing in church with his mother. At 13 he was strumming guitar. And by the age of 18, he was working gigs across the Delta with his dad and older brothers.

But the early 60's brought a new twist. Trekking north with his brothers, they settled right into the vibrant St. Louis blues scene. Albert King, Ike & Tina Turner, Little Milton, Oliver Sain, Fontella Bass, Chuck Berry and Johnnie Johnson --- the names were all here. But it was The Davis Brothers Blues Band who held court at Tubby's Red Room every weekend in East St. Louis. Their residency would not only last 18 years, but kindle many fond memories.

The year 1998 though was Boo's true breakthrough. Perhaps DAVE was intervening. Or maybe it was Boo Boo's ability to sing and play several instruments. Either way, he was playing drums for local and national harp legend, Arthur Williams, when opportunity finally knocked. Touring Europe as part of Arthur's crack St. Louis band, Boo Boo was approached about recording his own CD. His 1999 Black & Tan label debut, EAST ST. LOUIS was the first step towards a blues legacy that just keeps growing.

OLD SKOOL itself is about as stripped-down and powerful as you can get. Featuring Jon Mittendorp on electric guitar, and John Gerritse on drums, the European duo truly pull Boo's deep Delta essence out. Yet, in so doing, they add a 21st century funk that simply resonates. Much akin to R.L. Burnside's later years at Fat Possum Records, 'Old Skool Delta' rolls anew with Boo Boo's Black & Tan recordings. This pulsing, trance-inducing sound has been catchy enough to score Boo Boo international acclaim. In fact, ' 5-Hour Energy Drink' used snippets of his 2008 song 'I'm Tired' for their radio ads to boost their sales. Imagine that. Seventy-plus year old Boo Boo Davis selling an energy revival!

But in the end, it all makes sense. The trio on this CD has not only toured Europe extensively, but they've played over 300 shows in 20 countries the past two years. Tight and cohesive, all 11 tracks were recorded in single takes. From the clash of harp and drums on the opener, 'Hold Your Head Up', through such notables as the catchy-quick 'Boo Boo Fool', the slow, open-ended 'Boy Blues', to the driving train-like 'Call Me A Clown', the band rocks a 43 minute jam session that embodies Boo Boo's spirited live shows.

It's amazing how Boo Boo Davis continues to age like fine wine. Hopefully, if you're a reader out there, you'll take the opportunity to catch the ever stylish Boo live downtown. Though he's currently on a brief sabbatical from his European duo, he's back home performing some weekend gigs with Bob Kamoske, Mike Graham and Kevin O'Conner at BB's Jazz, Blues & Soups. What you'll find is one of the last great "old-skoolers" pumping out downhome blues as only a true great can.

As the liner notes claim, 'this music really is COOL.' About the only other thing this reviewer can add is "Thank you DAVE!!" And oh, even if you do catch Boo Boo live, get the CD. It's killer...... ENJOY!!