BEN LEVIN ---- "BEFORE ME" Vizztone 2019
By Michael Higgins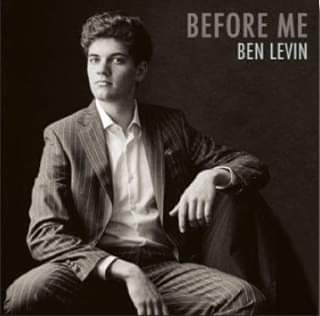 ON THE STREETS of the Queen City Cincinnati, 19-year old Ben Levin is called "Old Soul". With his smooth prowess on the keys, that's a special nickname in a city renowned for its King Records history. Sporting blues and R&B from Freddie King to James Brown, and even to barrelhouse legend Big Joe Duskin, it's actually a flat out honor.

Thanks to Chase Garrett's 9th Annual Boogie Woogie Stomp, I first heard Ben at St Louis' Blues City Deli. Ben had just turned 17 and his debut "BEN'S BLUES" was garnishing national acclaim. His brand new effort "BEFORE ME" is bound for even more.

Like his debut, "BEFORE ME" mixes both originals and covers. Ben's cover choices are once again uncanny, strutting hardcore blues with his own suave stamp. His version of Big Bill Broonzy's "I Feel So Good" rolls forward a red carpet for two very special guests: former Muddy Waters guitarist Bob Margolin and long time harp master Bob Corritore. Along with rhythm guitarist (and father) Aron Levin, bass player Chris Douglas, and drummer Oscar Bernal, the song follows Muddy's 1960 Live at Newport approach.

Flowing nicely from song to song, the CD is also a cohesive 'long play'. "Pappy", a Ben Levin original, is both a humorous yet envious finger-snapping tale of an older man's love charms. "So Soon" and the title track, however, show a deeper side of broken love and trust. "So Soon" is a slow blues lament with an open aired, almost Roosevelt Sykes feel. The title track "Before Me" -- co written by Ben and Aron -- is a pure trust-issue ballad reminiscent of Ivory Joe Hunter.

There's a wonderful breadth of instrumentals on the CD. "Creole Kitchen" is mambo-tinged and dedicated to Brew River Creole Kitchen, a Cincinnati hot spot that offered a then 14 year old Ben his first regular gig. "Lightnin'" is a James Cotton burner that allows Margolin and especially Corritore to stretch out. "This Morning", an Albert King classic, holds some Cincy history having been an early 60's King Records release. And "Open Late" is a sensual after hours gem credited to Margolin, Corritore and Ben.

But maybe the greatest treat of all is an ultra special two song appearance by 93 year old Philip Paul. Paul is a true living legend, having played the drums on several of King Records' greatest songs. He and Ben -- with Margolin on lead guitar -- pull off a tremendous remake of Freddie King's "Lonesome Whistle Blues", a song Paul backed King on in 1961. The other number is a sweet original called "Load Off My Back". Wonderfully penned by Ben, it lopes along with a great Jimmy Reed/Smokey Smothers feel. The feel is legit as both Ben and Philip have become good friends over the last couple of years.

"BEFORE ME" is a wonderful muscal journey. Joined by three blues legends, Ben Levin's maturity continues to grow and shine. And as the CD title suggests, he shows both great respect and a natural feel for America's oldest and most inspiring musical genre. A definite keeper, hopefully you can dig in and catch Ben live as he promotes this great release. If not, at least make sure you give the new CD a spin. It's worth several actually.

Enjoy :) !