Roomful Of Blues – 45 Live – Alligator Records, 2013

By East Side Slim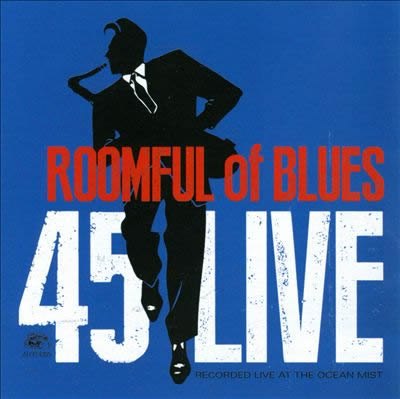 Roomful Of Blues – 45 Live – Alligator Records, 2013
The summer of 2013 ushered in a joyous event for blues lovers – a new album from Roomful Of Blues that serves to celebrate the band's 45th anniversary. Three nights of live shows at The Ocean Mist club in Rhode Island were recorded, and 14 tracks were sequenced together for this CD (it makes you wonder if a double-cd couldn't have been put together…what was left "on the floor"?) For those not aware, Roomful's home base is and has always been Rhode Island. Duke Robillard started Roomful, and the band's primary inspiration was 2-fold: initially B.B. King's show bands, but then primarily The Buddy Johnson Orchestra, especially their album Rock And Roll Stage Show. If you are not familiar with the work of Buddy Johnson, do yourself an enormous favor – seek out and listen often to The Buddy Johnson Orchestra's recordings.

For 45 Live, Chris Vachon (current band leader and only the band's 4th guitarist ever) chose songs for the project from band's lengthy history, with one previously unrecorded track also making an appearance. Vachon tried to pick the most memorable tune or tunes from the band's albums (although he may have leaned a bit heavily on his own tunes, as there are several Vashon-only songwriting credits in the mix.) Many of the songs from Roomful Of Blues' "Duke years" (those years prior to band originator Duke Robillard leaving the band) had to be reinvented to some degree due to changes in the band's personnel – different numbers of horns, different types of horns, that sort of thing. But, that really served to reinvigorate material that the band hadn't been performing, giving the songs new life. Recording these songs live in front of a rabid audience was a stroke of genius, as the following quote from longtime sax man Rich Lataille attests: "the best qualities of this band come out in a live setting". And that should carry some weight, as Lataille has been on-board for 43 of the band's 45 years – mark it 1970 (since the 1st days of the horn section cementing Robillard's vision of what this band should be.).
The Songs: (songwriters in parentheses).
1. Just Keep On Rockin' – (Chris Vashon)
--This one is hard-swingin' jump from Roomful's 2nd Alligator release, Standing Room Only. It reminds you what the rock and the roll in rock 'n' roll really mean. Sweaty!
2. It All Went Down The Drain – (Earl King aka Earl Johnson IV)
--This baritone-heavy groovy cut wasn't originally released on a Roomful album, instead being recorded by Earl King with Roomful as his band for King's Glazed album. Chris Vachon approximates King's liquid-sounding guitar tone well, adding to the sexy groove of the tune.
3. Jambalaya – (Hank Williams…kind of sort of, but that's a story for another day)
--Roomful stays in a Louisiana pocket just a bit more, tackling this classic tune. A very nice surprise is the clarinet work of longtime Roomful member Rich Lataille, giving this almost-warhorse tune a fresh touch.

4. Easy Baby – (Magic Slim aka Sam Maghett)
--A bit of a surprise when 1st recorded for Under One Roof, Roomful takes on the West Side Chicago sound of Magic Sam and plays it tough, greasy and sexy. This is one of those cuts that will sneak up on you, sounding better and better with each and every listen. It's a good un.

5. That's Right – (Eddie Lambert and Chris Powell)
--When I think of Roomful Of Blues, this is the sort of thing that 1st comes to mind – hot, blasting, sweaty jump blues. Whoo! Nothing tricky here, just great stuff! This song was the title track to Roomful's 1st Alligator album.

6. Crawdad Hole – (Big Joe Turner)
--Here's another track not technically from a Roomful of Blues album. Rather, it's from the Blues Train album credited to Big Joe Turner & Roomful Of Blues with special guest Dr. John. The album featured several tracks with Joe fronting Roomful, and several instrumental cuts from Roomful sans Big Joe. Phil Pemberton has a good voice, but he doesn't have the sheer horsepower that Big Joe did (very few singers do). The horns are front-and-center on this track, with the rhythm section swingin' in an oh-so-sultry manner. This is also one of the tunes where Rusty Scott's piano playing really stands out.

7. You Don't Know – (B.B. King & Sam Ling...who was actually Saul "Sam" Bihari, using a pseudonym to acquire songwriting royalties for songs he didn't actually write…)
--Ah, this is sweet. It definitely pays tribute to B.B. King's style, working an urban uptown groove with just enough downhome grit to make you feel it. This song originally appeared on the Dance All Night album.

8. Dressed Up To Get Messed Up – (Greg Piccolo)
--A Roomful album title tune from the 1980's era, written by former sax-man and vocalist Greg Piccolo. The band hadn't played it live in about 20 years when this recording was made for 45 Live. That's too bad, as it's got a fun old-school rock 'n' roll vibe – the dancing girls would've really enjoy this one. Don't think about it…just dance. Well, we've got a fresh version now!
9. Straight Jacquet – (Rich Lataille)
--Here's an instrumental ode to sax great Illinois Jacquet, originally recorded for Roomful's 3rd Alligator Records release, Raisin' A Ruckus. The band puts its jazzy shoes on, all the while reminding you how just hard jazz can swing and how much fun it can be when the players quit thinking so much and remember that jazz can be for dancin'!
10. I Left My Baby – (Andy Gibson, Count Basie & Jimmy Rushing)
--This beautiful, powerful cut was originally recorded by Roomful for Turn It On, Turn It Up in the mid-90s Sugar Ray Norcia era. Also, it was a Count Basie band tune, sung by Mr. 5x5, Jimmy Rushing. The current version is a late night mood piece that features strong work from the horn section and from vocalist Phil Pemberton.
11. Blue, Blue World – (Chris Vachon)
--Here's a Roomful Of Blues original from the There Goes The Neighborhood album. It's nice to hear an updated version of this tune, as the band was in a bit of disarray when "Neighborhood" was recorded. It's a hard swinging, hard driving rocking tune riding plenty of groove.
12. Somebody's Got To Go – (Big Bill Broonzy)
--This one is blues, all blues, late night feeling sad baby done messed up blues, but performed with a touch of uptown swing. The muted trumpet is a treat, as is the baritone sax work. Mention should also me made of Rich Lataille's magnificent tenor solo. This song was performed often by Roomful when working with Cleanhead Vinson back in the day, but was never recorded – until right here.
13. Turn It On, Turn It Up – (Chris Vachon)
--The title track for, and 2nd cut used for 45 Live, from the "Turn It On" album. That era is tough for a singer to tackle, because it means that you're trying to sing material originally knocked out of the park by Ray Norcia (who is one of the finest singers of the past few decades - period, end of story.) Thankfully, Pemberton does his own thing here (opting for tone over horsepower), and the horns really get a chance to turn up the heat – as does Chris Vachon on guitar.
14. Flip Flap Jack – (Mark Early)
--Here we are at the end of the set, brought to a close by the 2nd tune taken from Roomful's Standing Room Only album. I suppose that's fitting, as 45 Live kicked off with a tune also originally recorded for Standing Room. This one is rollicking, old-school, horn-driven R&B, with the emphasis on rollicking. This one would fit solidly into the songbook of Big Jay McNeely – and that IS a complement.
The Verdict:
Roomful Of Blues 5th Alligator Records release – 45 Live – is a fitting tribute to all the musicians who have passed through Roomful's ranks over the years. It's hard to believe that this band has kept it going for 45 years, but the math adds up. Personally, I've always thought of Roomful as a live band, meaning it was at its best in front of a crowd, rather than a (sometimes) sterile recording studio. The symbiotic relationship, the mutually shared energy, is a joy to behold and to listen to, and it is highlighted throughout this fine cd. Alright, it's time to rate this bad boy. East Side Slim is giving 45 Live a rating of 4.00 on the STLBluesometer. If you dig hard driving, straight-ahead, swing-influenced R&B – then 45 Live from Roomful Of Blues is for you.
For more information, see the following websites:
www.roomful.com
www.alligator.com/artists/Roomful-of-Blues

Lee Howland - aka East Side Slim