By Kim "Fest Junkie" Welsh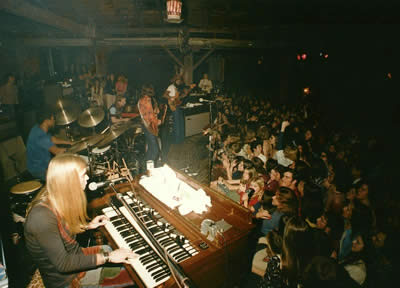 Music was an Allman family tradition. They hailed from the Tennessee hill country forty miles west of Nashville. Weekends were spent listening to the Grand Ole Opry on the radio and many family members sang and played traditional instruments-mandolin, guitar, banjo- performing gospel and Carter family classics and in barbershop quartets. Geraldine and Willis Allman lived in Nashville when their first son, Howard Duane Allman, was born on November 20, 1946. On December 8, 1947, Gregory Lenoir Allman was born. In 1949, Willis received a leave from the Army and was murdered in a muddy cornfield for $4.85 in his pocket. Geraldine eventually decided to go to college to become a CPA so she could care for her sons. She enrolled them in the Castle Heights Military Academy in Lebanon, Tennessee, which they hated. In 1957, she finished college and moved with her 10 and 11 year old sons to Daytona Beach. During the summer of 1959 while staying with his grandmother in Nashville, Gregg caught what he called "the fever" when he heard his neighbor picking country songs on a Sears Silvertone guitar. He earned money delivering newspapers and by the end of the year he bought his own Silvertone. The same year, 13 year old Duane got a Harley Davidson 165. When he skipped school, he would play Gregg's Silvertone. When he wrecked his motorcycle, he traded it for a Silvertone of his own. When they visited their grandparents in Nashville, they would take them to see the Grand Ole Opry, Jackie Wilson, Otis Redding, Patti LaBelle, and B. B. King and caught "the fever" all over again. They began playing in a band they called The Escorts with their friends and scored several gigs around town, including opening for the Beach Boys.
Gregg was just beginning to sing while Duane had a better voice. Gregg worked on developing a gravelly voice and once said, "I sound like a cross between Hank Williams with the croup and James Brown with no lips." After Gregg graduated from high school in 1965, he wanted to go to college to become a dentist. Duane wanted to continue to pursue their music career. Gregg decided to delay his career goal to stay with the band for the summer and they formed The Allman Joys. In 1966, they released their first single, Spoonful, an up-tempo, fuzztone-blasting version of the Willie Dixon tune about "that spoonful," with You Deserve Each Other on the flip side. They traveled all over the Southeast, playing at clubs and fraternities.

Meanwhile, Gregg faced the possibility of being drafted to Vietnam. Duane was exempt since his father had died and he was the oldest son, and he came up with a scheme to keep Gregg from being drafted. He threw a "foot-shootin' party" the night before Gregg's physical so that he could get a medical exemption. He invited some girls over, painted a target on Gregg's moccasin, shared some whiskey, called the ambulance, and then Gregg shot himself in the foot after he heard the siren in the distance! The ruse worked; Gregg successfully dodged Vietnam when he limped into the induction center on crutches.

In 1967, they formed a band called Hour Glass which opened for the Doors and became known as one of the hottest live bands in Los Angeles. The liner notes on the first album, "Hour Glass," promised r&b "reeking in soul." Their second album, "Power of Love," was a vast improvement over their debut, including a jazzy version of Norwegian Wood, but it was also a flop. Soon, "Hour Glass" split up and Duane drifted back to Florida and played with the "31st of February," with an old friend, Butch Trucks, on drums. Soon, Duane started assembling his own band with "Jaimoe" Johanson on drums, and merging with a band called "Second Coming" with Berry Oakley on bass, Dickey Betts on guitar, and Reese Wynans on organ. He finally persuaded Gregg to come home from California and had a Hammond B-3 waiting for him… with four joints on top! Three days later, in the Jacksonville Beach Coliseum, there was a concert billed as "Duane and Gregg Allman, Berry Oakley, Dickey, and all the rest formally of the Second Coming." Those who paid the whopping $2.50 admission can say they witnessed the debut of the Allman Brothers Band. There was a communal spirit and obvious bond and brotherhood that developed and the band's southern sense of place became a part of their aura. They were "enlightened rogues," as Duane described them and they were in the vanguard of the New South.
In August of 1969, they cut their first album, "The Allman Brothers Band," in six days, with an inside cover photo of the boys bathing in a creek. ABB played their first big gig at the Filmore East, "the Temple of Rock & Roll," in December, 1969. In January, 1970, they had a four-night stay at the Filmore West opening for Buddy Guy and B. B. King, who greatly influenced Gregg and Duane since they saw him as teenagers. In February, 1970, they played three days with the Grateful Dead, the beginning of a beautiful friendship. "Idlewood South," their second album, was named after the cabin where they rehearsed and enjoyed "recreation."
Sidney Smith (RockStarPhotos.net) generously contributed these wonderful images and has thousands more of ABB and every great Guitar God. He lived every photographer's fantasy life. The first time he met ABB, "they were playing Tulane University's Homecoming Dance… These kids had no idea who they had in their presence." He was present when they returned to the Warehouse for New Year's Eve two months after they lost Duane and noted that it was "very sad, but the crowd was extremely supportive." He became the photographer for Capricorn Records who spearheaded Southern rock in the 1970's. He attended the annual Capricorn Picnics where Phil Walden threw a big party for those associated with their recording label. Marshall Tucker Band, Elvin Bishop, Wet Willie, Captain Beyond, and various record companies would come and the Allman Brothers would always play. The Allman Brothers also performed at the opening concert of the Super Dome in 1975 along with the Charlie Daniels Band, Marshall Tucker Band and Wet Willie. In 1973, the first New Year's Eve that ABB didn't play the Warehouse, they opened for the Grateful Dead at the Cow Palace in San Francisco. Unbeknownst to ABB, the Dead "dosed" them before the show. While performing, Butch Trucks' drum sticks "turned into rubber" and Dickie Bett's guitar neck grew longer causing a shorter opening act than usual. Regarding Dickie, Sidney remarked that in spite of his small stature, "he could fight as well as he could play guitar. He was an expert in kung fu and karate." He often got in fights on the road and inevitably fought with everyone in the band. Sidney was Dickie's wedding photographer on their farm in Juliette, Georgia. He shared pictures of his ceremony with Dickey dressed in Indian attire.
In an unfortunate Jack Daniels fueled interview with Dave Herman, a disc jockey for WABC-FM, Duane stated, "I'm drunk, man." When asked, "Black label or green?" he responded, "Black label, of course. I'm from Tennessee, man. My grandfather washed his feet in Jack Daniel's." But mostly in the 2 years and 7 months that Duane was with ABB, interviews generally revolved around the music, the blues and jazz he loved, sessions he played as a sideman, putting ABB together, the thrill of playing with Eric Clapton and Derek and the Dominoes both live and on Layla and Other Assorted Love Songs.
Two months before his death, he made a chilling statement about why bands break up: "Drugs is one thing that will do it, and do it quick. I don't allow no shootin' up in this band…" That turned out to be an eerily accurate prediction of what would happen in 1976 to ABB.
Heroin use surpassed epic proportions and 24 year old Duane decided it was time to check in to rehab in the fall of 1971. Just as he was checking out on October 25, 1971, "At Fillmore East" went gold. When the Fillmore East closed its doors in June 1971, the Allman Brothers Band was the last band to perform. The recording of these shows, "At Fillmore East" is one of the greatest live albums to ever be released. For many years the Allman Brothers returned to NYC for an annual residency at the Beacon Theatre, a fantastic, art-deco treasure on the upper West Side. Fans from around the world came each March to experience improvisational rock & roll like what the Brothers played in 1971.
Duane Allman's and Berry Oakley's deaths were strikingly similar, though one year and two weeks apart. Both crashed motorcycles within a thousand yards of each other on parallel streets. Both were twenty-four when they died, and the drivers of the bus and truck they collided with were also twenty-four. Following church services, both had private memorials with the band playing. Duane was buried with a joint in his pocket and a Coricidin slide bottle on his ring finger. At his funeral, ABB with Thom Doucette played the Elmore James classic The Sky is Crying, one of the songs featuring Duane's slide work on "Layla and Other Assorted Love Songs," then Key to the Highway. Stormy Monday was next – a song Gregg and Duane had played since the Allman Joy days, then In Memory of Elizabeth Reed. Delaney Bramlett led the mourners in the old Carter Family standard, Will the Circle Be Unbroken?, a familiar melody Duane had worked into Mountain Jam hundreds of times.
Duane's body was still in cold storage, so a fitting decision was made by their wives. Duane and Berry were buried together near the Ocmulgee River at Rose Hill Cemetery. The band took off a few weeks and canceled two shows in Houston with the Grateful Dead, but there was never doubt about carrying on. They auditioned several bass players and unanimously selected Jaimoe's childhood friend, Lamar Williams. Soon, they played New Year's Eve at the Warehouse in New Orleans, one of the band's favorite haunts, and the concert was broadcast live over forty radio stations in the South. When they played shortly after Duane's death, Stephen Foster reported, "The concert was personal and stunning and scary. When the time came for Duane's leads, the band just played rhythm and the crowd started singing Duane's leads." Lamar later played with Dickey Betts in Sea Level and passed away at the age of 34 in 1982 with lung cancer, believed to have been brought on by his exposure to Agent Orange while serving in Vietnam.
Between July, 1969 and June, 1973, four long, difficult years, the band completed five all-time classic albums and Gregg recorded one of his greatest solo efforts. An incredible body of work, created under enormous handicaps of personal grief, emotional turmoil, and drug and alcohol abuse.
Eat a Peach, a two-disc set, was released in February, 1972, four months after Duane's death. The title came from Duane's quote, "Every time I'm in Georgia, I eat a peach for peace." It was "Dedicated to a brother-Duane Allman." Duane Allman, An Anthology, was released just over a year after his death. It was a two-disc set which was a collection of his finest work both as a session guitarist and as a member of ABB. His popularity was at an all-time high and it went gold within the year. "Brothers and Sisters" included the sadly similar phrase, "Dedicated to a brother – Berry Oakley." It hit the Number One spot on the Top Pop Charts and maintained it for five weeks. 1973 solidified the band's position among the successful rock groups in the country. Except for the Warehouse and Bill Graham's Winterland in San Francisco, they graduated to arenas and outdoor stadiums. They chartered the "Starship," a Boeing 720 airliner with luxurious appointments. They did benefits for various charities and donated autographed albums, guitars, and memorabilia for auction at charitable events

Over the next few years, Gregg and Dickey each formed bands and began touring together in 1986. During 1987-88, Gregg's recording career caught fire again with the "I'm No Angel" single on the Laid Back album. In 1989, a four-CD boxed set of a collection of ABB, Allman Joys, and Hour Glass songs brought them all back together again. Over the next decade, the revitalized band recorded six albums for Epic Records. On all but the last one, bassist Allen Woody and guitarist Warren Haynes were part of the lineup. They decided it was time for another live recording to capture what Duane called their "natural fire." "An Evening with the Allman Brothers Band" was released in 1992, a collection of songs from every era. Following that, a studio album, "Where It All Begins" became the best-selling album from the Epic years. In January, 1992, ABB was inducted into the Rock and Roll Hall of Fame. "2nd Set," another live recording was critically acclaimed and "Jessica" won a Grammy as 1995's Best Rock Instrumental Performance. After "2nd Set", it would be five years before they made "Peakin' at the Beacon," another live recording in 2000. Meanwhile, Warren Haynes and Allen Woody left to form Gov't Mule and were replaced by Jack Pearson on guitar and Oteil Burbridge on bass. In mid-1999, Derek Trucks, a 20 year old slide guitar prodigy who is Butch's nephew, officially replaced Jack Pearson. He had been touring with ABB sporadically for a decade. In March of 2001, Warren Haynes returned to ABB creating a lineup consisting of Gregg, Butch, Jaimoe, Derek, Warren, Oteil Burbridge, and Marc Quinones. In 2003, they released "Hittin' the Note" which Gregg rightfully called their best album since "Eat a Peach." In 2004, another two-CD live recording, "One Way Out" featured songs from their entire career.

The Allman Brothers Band's set at the recent Jazz Fest was yet another reminder of their enduring power. Derek Trucks broke his foot playing basketball with his brother and had to use crutches and sat for the entire show, but this didn't get in the way of his incredible slide work. Warren Hayne's lengthy jams with spiraling guitars and burning leads joined with classic gritty blues/rock vocals and deep-soul keys from Gregg Allman, Southern Rock's icon, and the never-ending percussion of the three drummers. The entire set was full of crowd-pleasing hits and every song was a favorite, but the crowd responded especially enthusiastically to the raucous seven-minute-plus Whipping Post that opened with Oteil Burbridge's deep bass riffs and featured successions of dueling guitar solos between Warren and stoically focused Derek, who worked magic with his glass slide. Whipping Post, Soulshine, featuring soulful saxophonist Jay Collins, and One Way Out were among the many classics and crowd favorites. Their beautiful rendition of Van Morrison's And It Stoned Me sung by Haynes made the performance complete. Gregg's voice was quite soulful and the band was tight. Warren and Derek offered up their usual scorching best and the entire audience was eating out of their hands. For the encore, Gregg fittingly switched from the piano to the acoustic guitar for Melissa which he wrote back in 1967. Derek hobbled back onstage with his crutches for the grand finale, One Way Out, and Gregg stretched out "just might be your ma-aan, darlin'… I just don't know." and really "hit the note!"
Don't Keep Me Wonderin'
Trouble No More
Midnight Rider
Woman Across The River
Ain't Wastin' Time No More
Blind Willie McTell
Statesboro Blues
Soulshine
Black Hearted Woman
Dreams
And It Stoned Me
No One To Run With
Whipping Post
Melissa
One Way Out....
An inside tip for all ABB fans: Go see them at Eric Clapton's Crossroads Festival; it may be your last opportunity!

On October 29, 1971, Duane Allman's ride ended but his music and his brotherhood lives on. This brotherhood doesn't just exist among members of his band and roadies; it exists among his fans as well. Looking around at Jazz Fest, it is evident that their audience includes children and grandchildren of fans who went to their gigs 20 to 30 years ago. There is a bond among them, a spirit of community and family lives on that will survive long after the last note of their final concert fades.