JEREMIAH JOHNSON BAND :: BIO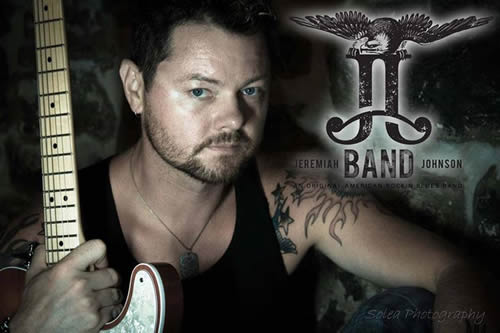 JEREMIAH JOHNSON
Born and raised in St. Louis, Jeremiah Johnson is the voice of Mississippi River blues blending with the struggles of everyday life. He began learning guitar at age 6, drawing inspiration from his rich St. Louis blues heritage and legendary guitarists, like Alvin Lee, Eric Clapton and Hank Williams Sr. and Jr. With these influences, Johnson began building his musical foundation.
After relocating to Houston, TX, in 1999, Johnson finished in first place for three consecutive years at the Houston Regional Blues Challenges, sponsored by the Houston Blues Society. During his 10 years there, Johnson merged Texas style with St. Louis blues to create the unique sound you hear today.
In 2011, Johnson was the proud winner of the St. Louis Blues Society IBC Challenge and went on to the semifinals to represent St. Louis in Memphis, TN. One year later, Sirius XM's B.B. King's Bluesville picked up the Jeremiah Johnson Band, where they can be heard nationwide, as well as on Touch Tunes Jukeboxes in bars and clubs and on radio stations across the country.
Boasting a five album discography, Johnson performs with Benet Schaeffer (drums), and longtime band mate Jeff Girardier (bass), bringing the Jeremiah Johnson Band to its rockin' bluesy peak.
Grind, Johnson's latest CD, produced by Devon Allman, features Grammy award winner Yonrico Scott on drums. Grind has been featured on SiriusXM's B.B. King's Bluesville, and on the international radio show "Confessing the Blues", broadcasting on 50 stations in 10 countries worldwide. Grind reached the #8 slot on the Billboard Blues Charts the week of November 7th, 2015.
In September 2014, Johnson filmed his docu-concert, Ride the Blues, directed by Australian Producer/Director Gary Glenn, at the historic Capitol Theater in downtown Burlington, IA. The film is live music video about Johnson's rise to prominence, featuring intimate interview segments, still photography, guitar solos and stunning vocals. Donations from concert attendees were generously given to the theater and to the National Blues Museum, connecting Johnson's roles of musician and music advocate.
JJB is currently recording a new album with Connor Ray Music, scheduled to come out this Spring.

JEFF GIRARDIER
The history of Jeremiah Johnson and bassist Jeff Girardier is all on CD. From their first recording in 1999 to Grind, Johnson's recent studio album, these two bring out the best in each other.
Born and raised in Sullivan, MO., Girardier has been a lifelong musician. After starting with the saxophone in the 5th grade, he began teaching himself guitar at age 14. He was offered a music scholarship to East Central College in Union, MO., under the stipulation he took bass and piano lessons. Even with his extensive musical background, Girardier always felt a connection to the bass. Johnson and Girardier met through a mutual friend in 1994. After supporting Johnson by attending live shows, Girardier was invited to fill in one night for the current bassist. The rest is history. Grind was the recording debut of Girardier's newest guitar, a 1973 Fender Precision bass. This particular guitar gives off a unique tone, contributing the JJB's overall sound.
BENET SCHAEFFER


Jeremiah Johnson Band drummer, Benet Schaeffer, is the newest but most seasoned member of the band. He contributes his multitude of expertise to steer the band toward their common goal of performing nationally and internationally.

Schaeffer grew up in the LaClede Town neighborhood of St. Louis, a groundbreaking community that created models for future integrated urban housing. This district produced numerous creative minds and boasts visits from Mick Jagger and Eric Clapton. At age five, he knew he was destined to be a percussionist, thanks to the inspiration of Ringo Starr. He was exposed to an eclectic variety of music, including blues, jazz, soul, classical, Irish, Israeli and African, and of course lots of rock 'n' roll. Schaeffer describes himself as a 'mostly self-taught' musician. He learned the most by watching and listening to other performers. He was later mentored by the late Billy Gayles, a previous drummer for Ike and Tina Turner. Schaeffer had been aware of the became the newest member of the Jeremiah Johnson Band after covering for their former drummer at a benefit at BB's Jazz, Blues and Soups.
"As I am well into my second decade of producing and promoting Blues concerts around the world, it still is a magical experience for me to find an artist who was not on my radar screen and whose talent just knocks my socks off. Such is the case with Jeremiah Johnson."
Steve Simon - Steve Simon Presents
"This CD, 9th & Russell, is not the stereotypical self-produced CD one encounters. Everything here is 1st class: musicianship, singing, production, artwork, and especially the songs. A lot of folks out there can play, and many can sing well, but when the songs are as strong as they are on this CD everything moves to a higher level - at the end of the day it's all about the songs. It can be a difficult task to capture the energy of a great live-performance band on a studio album, especially for blues and R&B acts. Jeremiah Johnson and band have most definitely risen to the challenge, capturing some of that live-music sound and energy on this recording. The band's own motto states "Live Music Is Better", but this CD is great way to experience the group during the times you are not able to see them up close and in person. It is my expectation that this CD will stand on its own merits and end up being considered one of the best independently released CDs of 2011"
Lee Howland - aka "East Side Slim" - STLBlues.net
--
back to top
--
"RIDE THE BLUES - THE SHORT FILM
Official "Call a Taxi" music video - The Jeremiah Johnson Band - "GRIND" CD release
So Damn Good - at the 2015 Big Muddy Blues Festival


Download Stage Plot
--
back to top
--
3 rooms, meals.
--
back to top
--

NEW BANDS CLICK HERE
From clubs to corporate events to festivals, STLBlues can help make your event a memorable one!