Al Holliday & The East Side Rhythm Band :: BIO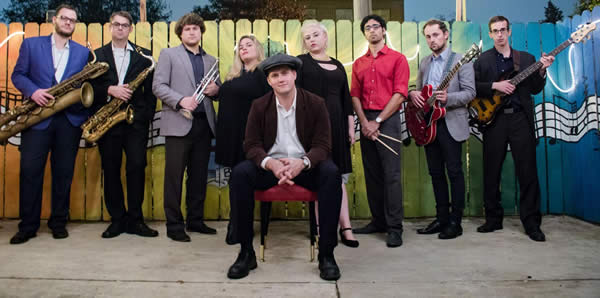 In a few short years, Al Holliday & The East Side Rhythm Band have built their reputation as the hard-hitting, world-class, force-of-R-&-B-nature beyond comparison. People everywhere have done more than just take notice as this young-blooded crew has brought their searing, raw performances to stages from their hometown St. Louis, across the region, and beyond.

The band's distinct brand of Soul music is a bit less "New York City" and much more "Mississippi River". Their sound combines the loose, funky feel of New Orleans R&B along with the visceral power and intensity of East St. Louis' own Ike & Tina Turner – and they bring it all right to ya with truly inspired original numbers by an undeniable, natural born artist, Al Holliday.

Whether it has been performing for the hysterical audience for their recent "Natural Remedies" CD release show, or sharing the stage with Galactic, Dumpstaphunk, and Orgone: Al Holliday & The East Side Rhythm Band has been whipping audiences into a frenzy with their burning, truly one-of-a-kind performances.

The band's brand new release, "Natural Remedies", was cut live to analog tape by the nine young men and women that are The East Side Rhythm Band – made with as much blood, sweat and tears as fried chicken and potato salad. The performances on this album serve as a document of this burgeoning champion Soul and R&B organization, while the content is nothing less than a revelation of a true artist, which in our times, is not something you see every day.

If you are looking for the real thing, look no further. The genuine article, steeped in tradition, truly inspired, with a whole lot of Soul – it is no mystery why Al Holliday & The East Side Rhythm Band is the Mississippi River's hottest young act – and sho' ain't no doubt – they' temperature is risin'.
*Best Male Vocalist*
Riverfront Times
*Best R&B Artist*
Riverfront Times
Illinois native Al Holliday traffics in the sort of timeless soul music that lifts the heart and drops a funky hammer. Holliday's keyboard-laden tunes mix the best elements of R&B, Old-School blues, soul, funk, and jazz in an incredibly winsome way.
Columbia Daily Tribune
Earlier this year Al Holliday emerged seemingly out of nowhere (actually it was Collinsville, Illinois) with a debut album, Made It Through the Mill, Again, and made fans of St. Louis blues, soul and R&B more than take notice. If they weren't pushing back the tables and dancing, they weren't alive. With the voice of a grizzled blues shouter three times his years, Holliday fronts a gutsy, old-school, similarly youthful group, the East Side Rhythm Band, that locks in to his barrelhouse piano playing and original songs with rhythm & blues in the tradition of Roy Milton or Wynonie Harris. Pound for blues-pounding pound, Holliday & Co. are among our city's finest musical revivalists.
Riverfront Times
Al Holliday and the East Side Rhythm Band - "Little Woman of Mine"
Al Holliday & the East Side Rhythm Band "Natural Remedies" | Live Performance | STL Up Late
--
back to top
--
•
For stage plot and backline, click here
--
back to top
--
• Estimated travel expense is $100.00 per 50 miles of travel
• Available to work weekend gigs or during the week
• We are a 7-10 piece band and need hotel rooms for all

NEW BANDS CLICK HERE
From clubs to corporate events to festivals, STLBlues can help make your event a memorable one!