HUDSON AND THE HOO DOO CATS :: BIO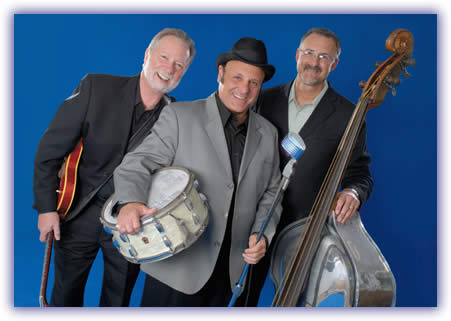 HUDSON AND THE HOO DOO CATS,


a JumpSwinginRockinBoogieBluesaBilly, or for short, a JitterbugaBilly band, was founded in Austin, Texas in 1989 and relocated to St. Louis, Missouri in 1995.The band has played over 4,000 performances. HUDSON AND THE HOO DOO CATS focus on swingin' shufflin' blues, 50's rock and roll and rockabilly, and medium tempo dance music (West Coast, Lindy Hop, and Imperial and more), as well as many original songs penned by founder and songwriter, Hudson Harkins. The band has long been a favorite of St. Louis area swing dance clubs and music fans.
Harkins fronts the band as lead vocalist and drummer. An Austin native of 39 years, his originals are strongly influenced by Austin's eclectic music scene and St. Louis' historical blues and roots traditions. Lead guitarist since 1994, John Logan's commanding style is featured on an old Gibson archtop or a Fender Strat. Slap bassist, Mike Graham, who joined the band in 1999, plays a rare 1930's aluminum upright with great showmanship.
After years of touring regionally and playing thousands of club dates, HUDSON AND THE HOO DOO CATS' experience and professionalism are reflected in their ability to adapt to any performing environment, including corporate events, weddings, private parties, casinos, festivals, and clubs. Hudson's connections with top local performing artists enables him to expand the core trio to satisfy the performance requirements of any setting. High profile corporate clients include American Airlines, Anheuser-Busch, Southwestern Bell, A.G. Edwards, Ameristar Casinos, Fox Sports Network (recorded song and video for St. Louis Cardinals), Jerry Lewis MDA Foundation, and many, many more.
HUDSON AND THE HOO DOO CATS The band's first 5 albums have been condensed into a two CD compilation package entitled "AND FRIENDS 2" and "2 CARS," which represent the best of the group's recordings. This compilation focuses on Harkins' originals, showcases the individual talents of each core member, and features the talents of over 25 guest artists from Austin, Texas and St. Louis, Missouri. Some of these top artists include the late Rock and Roll Hall of Fame pianist, Johnnie Johnson, W.C. Handy award winner, W.C. Clark, and Texas Music Hall of Fame guitarist, the late Jessie Taylor.
HUDSON AND THE HOO DOO CATS: JumpSwinginRockinBoogieBluesaBilly at it's finest.

-- back to top --
Cornbread's review of "AND FRIENDS 2" and "2 CARS"
-------------------------------------------------------
The self described JumpSwinginRockinBoogieBluesabilly trio has been a mainstay around town for years. The band has shared the stage with Chuck Berry, the Brian Setzer Orchestra and the Royal Crown Revue. A combination of 1940s' jump blues and swing, 1950s' rockabilly and a steady dance beat have made Hudson Harkins, John Logan and Mike Graham crowd favorites. - St. Louis Post Dispatch, St. Louis, Missouri
"These guys are talented, versatile, easy to work with, and GREAT fun. We had a blast performing with 'em."
- Jim Belushi and Joe Piscapo, Station Casino, Kansas City
"Formerly from Austin, Texas, these St.Louis-based Cats cover all the bluesy bases, from Clarence "Frogman" Henry to Wynonie Harris to Louis Jordan to Carl Perkins. But we like the silly Southern humor of their swinging originals, namely "I Like Kitties" and " I Got Love For You That's Stronger Than Super Glue." Check 'em out."
- The Dallas Morning News, Dallas, Texas
"Take Texas natives with a bad case of the blues, dust 'em with swing, season with rockabilly, garnish with strong voices and serve hot."
- The New Orleans Times Picayune
AUDIO/VIDEO (RECORDED AT THE SHELDON)
2 tube driven guitar amplifiers
1 bass amp
Drum set
Three vocal microphones (two up front, one for drummer)
2 hotel rooms, meals before or after performance, and drinks
--
back to top
--

NEW BANDS CLICK HERE
From clubs to corporate events to festivals, STLBlues can help make your event a memorable one!