CHARLES (SKEET) RODGERS, THE LOVELY MS. HY-C & THE INNER CITY BLUES BAND :: BIO
Charles (Skeet) Rodgers, The LovelyMs. HY-C & The Inner City Blues Band is a seven piece Blues Band whose consistency of talent is outstanding.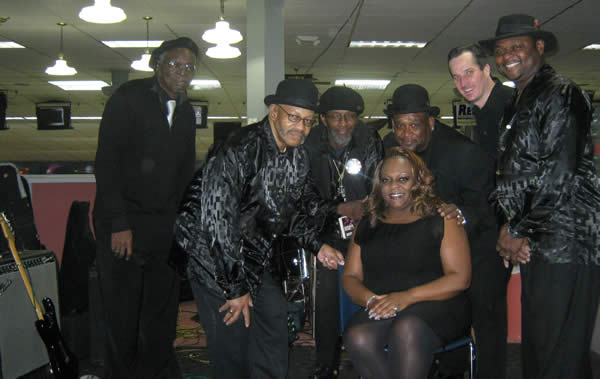 Skeet is a singer with a strong, compelling sound that really moves the crowd and has performed with many Blues Queens & Kings in the Midwest before forming his own group of skilled and well-known musicians together to make a band of his own, naming them "The Inner City Blues Band".

Skeet has opened Blues Shows for the past 18 years for Kings of the Blues such as Mr. Bobby Bland, Mel Waiters, Sir Charles Jones, Willie Clayton, Floyd Taylor, Jerry Butler, Big George Brock, El J Echols, the late Johnny Taylor, Little Milton Campbell, Tyrone Davis & Marvin Sease. Queens of the Blues were Shirley Brown, Denise LaSalle & Ms. Barbara Carr just to name a few. This must see band continues to play around Top Venues in the St. Louis, Illinois, Kansas City & The Dirty South performing Blues and R&B songs from the past and present greats along with his own recordings.
Jacinta Griffin, or better known as The Lovely Ms. HY-C earned her title of Female Vocalist for the Inner City Blues Band. Her sultry sounds were influenced by Aretha Franklin and Gladys Knight and she is no amateur to sharing the stage with Blues & Jazz Greats, Ms. Denise Times & the late Mr. Willie Johnson. The Inner City Blues Band is a plentiful gathering of talented Blues artists who consists of Mr. Tommy Johnson(Lead Guitar)Played with Chuck Berry, Jimmy Reed,, Big George Brock & Little Walter Jacob, Mr. Frank Dunbar(Bass) Traveled the world with the late Albert King, played bass for Hail, Hail Rock & Roll , The Movie with Chuck Berry, Mr. Andre Petty(Keyboards) Traveled and toured with The Paperbag Co., Mae Wheeler & David Dee., Mr. John Higgerson(Second Guitar) Traveled many European countries with The Cee Cee James band and toured 10 years with Blues Artist Mr. David Dee., Mr. Ferrante Douglas(Drummer). Traveled with Big George Brock, Eugene Fluker, Ronnie Guyton & Smooth Touch Blues Band, Chuck Wallace and Ms. Barbara Carr.
This Band stands out like the Greats they have shared the stage with.

-- back to top --

Coming soon!
--
back to top
--
--
back to top
--
• DRUMS
• BASS AMP
• KEYBOARD AMP
• GUITAR AMP / LEAD
• GUITAR AMP/ RYTHM
• PA SETUP WITH AT LEAST 8 MIKES
--
back to top
--
• Estimated travel expense is $100.00 per 50 miles of travel
• Available to work weekend gigs or during the week
• We are a 10 piece band and need hotel rooms for all
From clubs to corporate events to festivals, STLBlues can help make your event a memorable one!