GREEN MCDONOUGH BAND :: BIO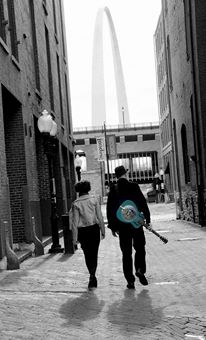 Veteran blues guitarist, Rich McDonough, has teamed up with singer/songwriter, Laura Green, a seasoned vocalist, new to the St. Louis blues scene. The Green McDonough Band performs a dynamic mix of originals and their own reworking of classic blues. Their music is inspired by the great artists of the past as well as contemporary blues artists, such as Big Mama Thornton, Elmore James, Howlin' Wolf, Little Walter, Bonnie Raitt, Susan Tedeschi, Lou Ann Barton and others.
The Green McDonough Band has been performing on the St. Louis music scene for over a year and has a soon-to-be-released CD, as well as a European tour scheduled in the spring of 2016.
Rich is no stranger to international performance, having played in places such as Holland, Belgium, Norway, France, Hungary, Germany, and a recent tour of Brazil with Kenny "Blues Boss" Wayne. He has also performed and/or recorded with Johnny Johnson, Rondo's Blues Deluxe, Levon Helm, Uvee Hayes, Soulard Blues Band, Keith Doder, and has recorded two CDs under his own name.
The Green McDonough Band's music is a fusion of their individual styles that they bring to the mix to create a dynamic, energetic, unique experience.
--
back to top
--
Coming soon!
--
back to top
--
Coming soon!
--
back to top
--
BACKLINE NEEDS (Varies ifduo/full band)
• DRUMS
• BASS AMP
• GUITAR AMP / LEAD
• GUITAR AMP/ RYTHM
• PA SETUP WITH AT LEAST 2 MICS
--
back to top
--
• Available to work weekend gigs or during the week
• We are a 2-4 piece band and will need hotel rooms for all

NEW BANDS CLICK HERE
From clubs to corporate events to festivals, STLBlues can help make your event a memorable one!