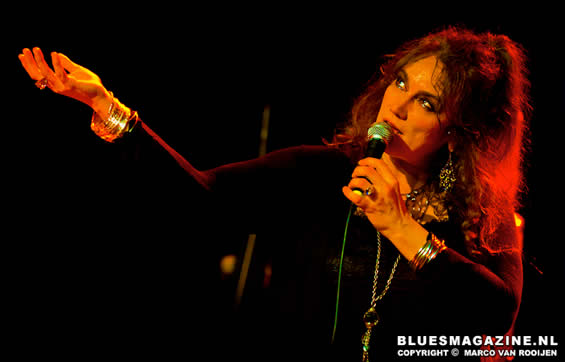 "Cee Cee James new release "Blood Red Blues" reveals a woman with the vocal intensity of a hurricane. She is the calm before, devastation during, and aftermath of the endless storms of life. On stage, Cee Cee bares her soul and channels those deep emotional truths through her music with unmatched power and conviction"
- John May, BB's Jazz Blues and Soups

Cee Cee is based in St. Louis, MO and works with Mario Brox of Concept Entertainment who books her International tours.

She traveled to Europe for her second tour in May 2012 with another slated into Scandinavia in the Fall. Cee Cee is also slated to star in a supporting roll in the upcoming film "WE BE KINGS." Written and produced by Toby Hubner, the movie features Magic Slim as I Be King, Grana Louise as Lilly, Bianca Ryan as Layla, Quinn Sullivan as Dustin, Pryce Watkins as Sam, Cee Cee James as Ellen, and featuring the TEARDROPS, Magic Slim's band.

EXPECT NOTHING BUT RAW REAL HUMANITY out of this Woman. Expect fearless humble bravado in her writing and her performances. Expect CEE CEE JAMES to be around for a LONG TIME.
SOLD OUT SHOWS - STANDING OVATIONS!
Mario Brox, Concept Entertainment, Canada
Cee Cee's first tour into Europe, turned out to be a smashing success: SOLD OUT SHOWS, STANDING OVATIONS and an absolutely enthusiastic reception of her performances. Cee Cee James is a phenomenal artist and an absolute pleasure to work with. Please do not hesitate to contact me if you require any further information.

BLUES CAFE T'GOOR - NETHERLANDS
Michael Hofkins - Owner
"Everything went out very well!!! What a gig! What a voice! We had a full house and they all went crazy. We want her back!"

YOU WON'T BE DISAPPOINTED!
Linda Zopfi, Zopfi Production, LLC
Cee Cee is not only a true professional going into the events with all the details and paperwork, but the epitome of a truly spectacular entertainer while performing! The crowds have always loved her, and that's why we kept bringing her back, year after year. If you include CeeCee James at your event, you won't be disappointed!"

IBC WINNER - KLAMATH BLUES SOCIETY
Phyllis Faries - Klamath Blues Society President
The way she interacts with the audience is incredible. We were so impressed with her intense performance, vocal style, and professionalism that we nominated her to represent our society at the International Blues Challenge in Memphis, TN"

PERFORMANCE GOLD!
Mark Cole, Upstage Restaurant - WA State
"Cee Cee James is performance gold. She delivers and her band delivers, and she has done this club, Upstage, in Port Townsend, Washington, really well. Attendance and performance is solid, consistent, for Cee Cee." !
Compilation - Live Show Clips
Download stage plot PDF (617MB)
3 Rooms - 2 Doubles/1 Single; meals before or after performance, drinks.
(Further meal requests can be found on Technical Rider)
--
back to top
--

NEW BANDS CLICK HERE
From clubs to corporate events to festivals, STLBlues can help make your event a memorable one!