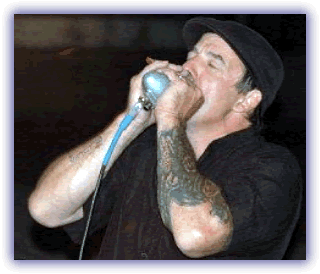 Deak started playing harmonica at age 12 when he heard a schoolmate playing blues on a harmonica. Deak listened to British blues untill his brother Bob told him about a harp master named James Cotton. In 1993 Deak had the good fortune and opportunity to drive for the James Cotton Band, from Chicago to Miami, Florida and back. Deak later drove for the James Cotton special acoustic trio featuring James Cotton, Dave Maxwell and Luther Tucker. On the tours Deak learned directly from Cotton, who helped him with his tone on the harp and taught him how to be a band leader. Deak's solo show features Deak accompanying his harp with his 'stompbox', providing his own percussion!
--
back to top
--
"Deak jumped into the audience and ran down the main aisles at lease twice, playing his harmonica like a man possessed.
.....
Robert Santelli, Asbury Park press

"Smokin' Harmonica player"
...
Robert Makin, Aquarian
--
back to top
--
Riding the Rails
|
John Henry
|
Davidson County Blues
|
Little Embarass
Negotiable
Negotiable
--
back to top
--

NEW BANDS CLICK HERE
From clubs to corporate events to festivals, STLBlues can help make your event a memorable one!