TYLER STOKES / DELTA SOL REVIVAL BAND :: BIO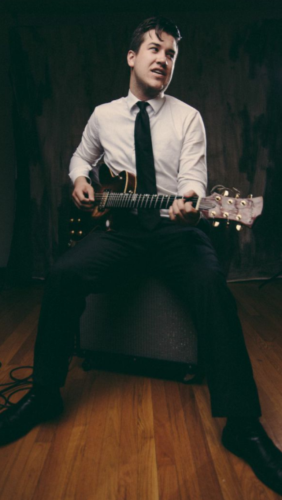 Tyler Stokes is the frontman and creator of Delta Sol Revival. It all began when the St. Louis native was in college and wrote 5 songs in a week. He put a group of guys together and the rest is still in the making of Delta Sol Revival's history. You can also catch Stokes live for solo performances all over the Midwest. lead guitar vocals songwriter
Delta Sol Revival (DSR) has a lineup that varies from gig to gig across the Midwest. Delta Sol Revival has an eerily familiar sound…in a good way. It's a throwback sound that's steeped in old traditions and fueled with nuances of Latin and jazz – think Allman Brothers, but funky, mixed with Santana, and rounded out with R&B. Their music has soul and swagger, and their live shows are visceral, full of energy, and in high demand. Our forthcoming EP will be produced by Blues Music Award Winner Devon Allman.
JamBands.com -
"He's a 19-year old virtuoso from Springfield, Missouri, and the only reason he's not out there playing to a thousand people a night is because he's in college. So, we're going to get him through college the next two years while we're working on everything—the voice and the songs and the recordings. He's very much under my wing, so I am looking forward to seeing his career blossom. He's got a band called Delta Sol Revival. He's great."
- Devon Allman
'Delta Sol Revival took the stage and began the shredding of the place. Wow. I was not prepared for the sounds that came out of this group. Sounding like Jonny Lang-meets-Santana, the band played a ten-song set that moved between salsa, blues, rock and shuffle. The entire band played well and engaged energetically with each other and their audience, but guitarist and Allman protégé Tyler Stokes was difficult to take your eye from. Looking about 17 of his tender 20 years, he jumped, danced, boogied and stomped." -
Kevin Edwards KDHX
Tyler Stokes - "Frieght Train"





Sound Check with Delta Sol Revival - "Sins Are Forgiven"
Negotiable
--
back to top
--
Backstage-water & towels would be great. Some food backstage would be great (nothing big-pizza is always great/meat trays...something like that.)
--
back to top
--

NEW BANDS CLICK HERE
From clubs to corporate events to festivals, STLBlues can help make your event a memorable one!