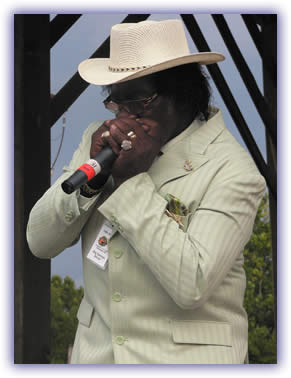 Today, there are more blues festivals than at any other time in the history
of the world. Not surprisingly, there are plenty of excellent blues players
available to perform at them. But how many bluesmen are left? You know,
the real deal. The genuine article. Big-voiced blues veterans who came up the
hard way in a time before rock music — when picking cotton was the only
work and dinner meant black-eyed peas. Well, the days when blues was
pop music and bluesmen were heroes have sadly passed, but there are still
a few of those real-deal men (and women) out there. Big George Brock is
just such a man. Sharecropper, boxer, club owner and, through it all, an
honest-to-Muddy bluesman. From the cotton fields to the bright lights,
big city, Brock has done it all. He's faced personal and professional ups and downs but never given up. Even today, with all the aches and pains of old age, the blues
still lift him up.
Born in Grenada, Mississippi on May 16, 1932, Big George spent his teenage years
near Clarksdale, Mississippi, before settling in St. Louis, Missouri, in the 1950s.
While living in the Clarkdale area, he did back-breaking fieldwork, boxed on weekends, and played the blues. He remembers hanging out at house parties in the Delta where folks like Memphis Minnie would show up. Even today, he still has relatives in the Clarksdale area, including his blues-playing nephew James "Super Chikan" Johnson and brother-in-law Big Jack Johnson.
In St. Louis, Big George owned a series of blues clubs in the 1950s, 60s and 70s, including Club Caravan (formerly the Early Bird Lounge) – where his wife at the time was killed by stray bullets from a drunk's pistol – and New Club Caravan. Later, Big George & the Houserockers was the house band at Climmie's Western Inn for 12 years. During his career, Big George has played shows with blues legends like Muddy Waters, Howlin' Wolf, Jimmy Reed and many others. Garrick Feldman of the Arkansas Leader has said Big George is "about as good a harmonica player as any of the blues greats, and he knew and played with most of them." At various times, he's had fellow Mississippians Willie Foster, Big Bad Smitty, Terry "Big T" Williams, Jimbo Mathus and Bill Abel back him at shows, but most often, you'll find him with one of the best "unknown guitar players" in the biz: Mr. Riley Coatie.
Besides his 6-string skills, this native of the Arkansas Delta is also known for his amazing family blues band. Coatie taught his children Tekora, Latasha and Riley Jr. to play in the old classic style that Big George Brock loves.
May 12, 2006
— exactly one year and five days after he recorded his Club Caravan album — Big George Brock returned to a Mississippi studio to lay down tracks for a much anticipated follow-up CD. In those 370 days, a lot happened in Brock's world. In August 2005, he took part in Mississippi Public Broadcasting's Native Sons concert film project (since re-named Mississippi Bluesmen). In October, Steven Seagal tapped Brock to blow harp on the actor-musician's all-star blues album, Mojo Priest. In November, the Blues Foundation announced Brock's "Comeback of the Year" Blues Music Award nomination — a designation soon followed by several "year end" top CD lists and even a Living Blues Award nomination. By January 2006, Brock's own story in words and music had been captured on film by director Damien Blaylock and, on May 8, 2006, was released nationally on the DVD Hard Times.
--
back to top
--
"Unlike many of the younger generation of harp players, 73 year-old Big George Brock, after a half-century as a musician, has lived the blues. In his youth he worked in the cotton fields around Clarksdale, Mississippi, and boxed on the weekends to earn extra money. Moving north to St. Louis in the 1950s, he played in bands and ran a series of blues clubs in the 1960s and 1970s, including one in which his wife at the time was killed by gunfire. He now returns frequently to the Delta, where he still has family (including Clarksdale bluesmen Big Jack Johnson and James "Super Chikan" Johnson) to visit and play the festivals and local juke joints.
Earlier in his career, Brock played on the same bill as legends like Muddy Waters, Howling Wolf, and Jimmy Reed, but national fame eluded him and his recorded output was limited. With a new full-length CD recorded in 2005 by Cat Head, the Clarksdale-based music store/recording label/art gallery/blues promotion center, he is finally, and deservedly being heard by a much wider audience. The Houserockers, his backing band on the CD, is the able Coatie family band, led by patriarch Riley Coatie on guitar, with his children Riley Jr. on drums, Tekora on bass, and Latasha on keyboard.
Unless you're lucky enough to catch George live at one of his frequent shows down South, where his wife is usually hawking his CDs, you'll have to buy Club Caravan online, at Cat Head or CD Baby.
To underscore George's unassuming but effective harp style, he is no gear junkie with customized harps and amps and tricked-out mikes and effects pedals. He plays stock Hohner Golden Melody harps, and in live shows, he plays through the PA using the same wireless vocal mike that he sings through".
-- Bluesharp.org

Called a "73-year-old vocal and harmonica genius" by Big City Blues magazine, Mississippi-born Big George Brock knows his music. And when he sings his blues, he ain't lying. When he sings "they call me a lover," know that he has 42 kids. When he talks about "that lonesome cotton field," understand that he grew up a Delta sharecropper. And when he boasts about beating a rival and "[taking his] little girl home," remember that in his younger days, Brock once wrestled a bear for money and flattened pre-world champion Sonny Liston in a boxing match. Even when Brock covers blues classics by Muddy Waters, Howlin' Wolf and others, note that he learned these songs firsthand -- not just from a record. Between his youth in the Mississippi Delta and his years as a blues club owner in St. Louis, Brock has shared the stage with everyone from Muddy and Wolf to Jimmy Reed and Albert King. Today, over 60 years after he first picked up a harmonica, Brock is in the midst of a much deserved comeback. His newest "Club Caravan" CD (that Juke Blues magazine described as "Contender for album of the year. Fat Possum meets Chess? Irresistible.") is up for a Blues Music Award the same week Brock storms the stage at the Ponderosa Stomp. From recent all-star recording sessions for actor Steven Seagal to filmings for Mississippi Pubic Broadcasting, from blues festival dates in Italy to national airplay on XM Satellite Radio, Brock proves he's back and as real-deal as they come. According to Blues & Rhythm magazine, Brock "transports us back fifty years to a Mississippi juke joint." And Mojo magazine sums it up this way, "Not exactly the way things were. But damn close." May 2006 introduced a new "Hard Times" DVD on the Cat Head Presents label and a new CD on the APO/Acoustic Sounds label.
-- Ponderosa Stomp

-- back to top --
Coming soon!
--
back to top
--
Negotiable
--
back to top
--
Negotiable
--
back to top
--

NEW BANDS CLICK HERE
From clubs to corporate events to festivals, STLBlues can help make your event a memorable one!