MEET SONNY ROBERTSON, BLUES LEGEND
---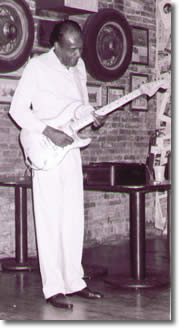 HOWARD SONNY ROBERTSON, WAS BORN APRIL 28, 1940 IN ST. LOUIS MO. HIS MOM DOROTHY WAS A GOSPEL SINGER AND HIS FATHER WAS A TAP OR (BUCK) DANCER IN VAUDVILLE. HOWARD HAS SUNG SINCE HE COULD REMEMBER, HOWEVER, HIS FIRST REAL PROFESSIONAL GROUP WAS WITH GOSPEL LEGEND "WILLIE MAE FORD SMITH", WHO, THROUGH HER DAUGHTER JACKIE, TAUGHT HIM HARMONY, VOICE CONTROL, AS WELL AS DISCIPLINE.

HERE'S SOME HISTORY AS TOLD BY SONNY.
"MY TENURE WITH MRS. SMITH ALLOWED THE OPPORTUNITY TO SING IN SHOWS WITH LEGENDS SUCH AS "MAHALIA JACKSON: "CLARA WARD, JAMES CLEVELAND AND A HOST OF MANY OTHER GOSPEL GREATS. I LEFT MRS. SMITH TO JOIN THE GOSPEL RECORDING QUARTET "THE WELCOME TRAVELERS", WHERE I SANG FIRST TENOR AND BEGAN PLAYING GUITAR. THE GROUP WAS VERY TALENTED. H.T. LIGGINS AND MAC HARDIN FROM THE GROUP, WENT ON TO BECOME MEL AND TIM, R&B STARS, WITH SONG CREDIT (BACK FIELD IN MOTION) AND OTHER HITS.
NEXT, I BEGAN THE LONGEST AND WHAT I CONSIDER THE BEST TIME OF MY CAREER AND THAT WAS SINGING WITH CHILDHOOD BUDDIES CHARLES DRAIN, LIONEL STOKES, JOHN HOPKINS, TUMAN HUGHES AND LEROY TERRY WHO ALL MADE UP THE TABS RECORDING ARTIST FOR VEE JAY RECORDS IN CHICAGO AND ALSO SEPTER AND WAND RECORDS BASED IN NEW YORK. MEMBERS OF THOSE TWO LABELS WERE GREAT ACTS SUCH AS, "THE SHIRELLES, DIONE WARWICK, CHUCK JACKSON, CURTIS MAYFIELD, GENE CHANDLER, THE FOUR SEASONS, THE DELLS, JERRY BUTLER AND SO MANY OTHER GREATS.
SINGING WITH THE TABS TOOK ME TO THE APPOLLO THEATER TO WORK WITH THE MIRACALS, FLIP WILSON, RED FOXX, MOMS MABLEY AND THE ISLEY BROTHERS. SOME ADDITIONAL VENUES LEAD ME TO THE UPTOWN IN PHILLY, THE ROYAL BALL, THE HOWARD IN D.C. THE REGAL IN CHICAGO AND MANY OTHERS. FOLLOWING THE BREAK UP OF THE TABS, I RETURNED HOME TO ST. LOUIS TO WORK LOCALLY. I BEGAN TO PLAY RHYTHM GUITAR FOR THE LATE BLUES LEGEND "ALBERT KING" WHICH LED WORKING AT THE FILMORE EAST AND WEST. DURING THIS TIME I PLAYED WITH MANY OTHER GREATS SUCH AS, MATT MURPHY, JIMI HENDRIX, BB KING, KOKO TAYLOR, PAUL BUTTERFIELD, BUDDY GUY, LONNY BROOKS AND MANY OTHERS."
SONNY ROBERTSON IS A BLUES LEGEND ABROAD AS WELL AS THE COMMUNITY WHERE HE CURRENTLY RESIDES IN AKRON, OHIO WHERE HE HAS FORMED THE HOWARD STREET BLUES BAND. HE HAS HAD A HAND IN THE DEVELOPMENT OF SOME OF THE GREATEST YOUNG PLAYERS IN THE AREA. AS MUSICIANS AND BLUES MEN, VICTOR HEAD (VOCAL, HARMONICA, TROMBONE) ANTHONY WATTERS (WRITER, GUITAR, VOCALIST) CLINTON WALTON (BASS PLAYER, SOUND ENGINEER) RAY MCALL (PRODUCER, WRITER, KEYBOARDS) GARY MERRITT (DRUMMER, VOCALIST) ROBERT THOMPSON (KEYBOARD, PERFORMER, VOCALS) CHRIS MITCHELL (STUDIO ENGINEER, BASS PLAYER, VOCAL) VINNY GOTHWAIT (VOCALS, GUITAR) AND MANY OTHER AWESOME PLAYERS WHO WILL CARRY ON THE LEGEND.

Sonnys Web Site