MARQUISE 'BIG DADDY' KNOX :: BIO
Marquise Knox is a blues prodigy, who exploded on the St. Louis scene. Marquise grew up listening to Lightnin' Hopkins, Muddy Waters, Johnny Lee Hooker, and B.B. and Albert King.
He's since opened for B.B. King, and performed with legends like Henry Townsend, Louisiana Red, Robert Lockwood Jr., and Honeyboy Edwards!
One of the most exciting young players to emerge in St. Louis, Marquise embodies the soul and essence of a veteran bluesman, with his command of guitar and harmonica combining with his energetic showmanship.
"
I want to be known and as big as B.B. King throughout the whole world. I want everyone to know about this kid that can play the blues as if I was there when it was made, and to show that the young kids can do something with their life.
"
-- Marquise Knox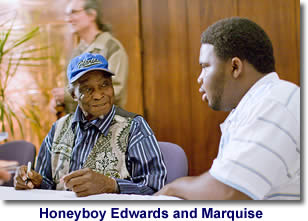 "When blues aficionados get to talking about Knox, the words "prodigy" and "Muddy Waters" tend to crop up in reverent tones."
--Riverfront Times, St. Louis, MO.
"The big question is always the future of blues. All the innovators are dying out and the future of blues is in danger of becoming white rock & roll. Right now this kid should be on at every blues festival in the country. He's got a big voice like Muddy Waters, and he's got that machismo. He's really stunning when you hear him. He's rough and raw, and he's pure."
--
John May, St. Louis Blues Society

--
Marquise Knox 'Interview with a Prodigy'
•
Livin' Proof
•
Dream Boy Gone
•
Rise Up Now
•
Dear Friend Of Mine
2 Guitar amps, 1 bass amp, drum set, PA & monitors
• Three double rooms
• One meal for each band member
• Ice cold bottled water
• Travel expenses beyond 75 miles
--
back to top
--
From clubs to corporate events to festivals, STLBlues can help make your event a memorable one!